Vimla Devi, 39, was preparing to go to bed when she heard loud bangs on her door. Her heart sank. At 9 p.m., everyone in Nimera village, 25 kilometres from the state capital of Jaipur, had already settled down for the night. Piercing the calm came the shouts of men wielding 'lathis' (sticks) and trying to break down Vimla's door: "We will kill this woman today," they shouted. Inside the house, Vimla and her two children shuddered with fear.
A child in the village had fallen seriously ill, and these angry men believed Vimla to be the cause. Fortunately for her, more enlightened people of the village intervened and suggested that instead of targeting the poor woman the child be taken to a doctor. This was in July 2010.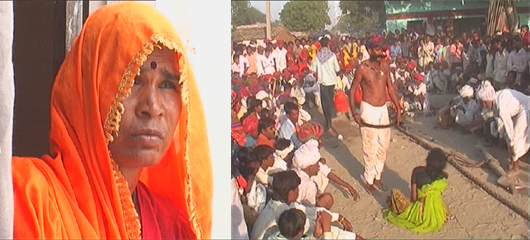 The next day Vimla's husband, Nemi Chand, a daily wager, went to the nearest police outpost to lodge a complaint, the fourth in the last seven years. A few days later, delegates from the National Federation of Indian Women (NFIW) came down to Nimera and forced the police to take action.
Vimla has been the target of witch hunters over the last seven years. She was labelled a witch, or 'dayan' in local parlance, ever since the death of her mother-in-law, who had also been so branded. In fact, the villagers believed that Vimla had inherited the art of witchcraft from her.
Vimla was first attacked in 2003 when a mob came after her with sticks and rods for allegedly using occult. Grievously injured, she was admitted into the intensive care unit (ICU) at Jaipur's Sawai Man Singh Hospital. That was the first time Nemi Chand had lodged an FIR, under Sections 143 (unlawful assembly), 323 (causing grievous hurt) and 451 (house trespass) of the Indian Penal Code (IPC). When the atrocities increased, the family fled the village in 2006. But three years later when they returned, nothing had changed. This year alone, there have been two attacks on Vimla - in April and in July.
Just like Vimla, Ganeshbai, 70, of Nandeshma village in Udaipur district, has been going through even more horrific experiences. In May 2009, a group of men attacked the septuagenarian, stripped her, hit her, and then dragged her to the village chaupal, before forcing her to eat excreta for practising witchcraft.
Even as a large crowd gathered, no one came forward to help her. In the evening, her son Navneet took her to the Sayra police station to lodge a complaint, but the police 'engineered' a compromise. Only when the National Commission for Women (NCW) stepped in did the police bother to arrest four people, including two women, for their outrageous acts.
Vimla Devi and Ganeshbai are not the only women in Rajasthan who are paying the price for being branded witches. In many districts in the state - Kota, Tonk, Sawai Madhopur, Bhilwara, Chittorgarh, Udaipur, Dungarpur and Banswara - women who are mentally ill, widowed, infertile, have features considered "ugly" or are old, unprotected and poor, are declared as witches and are tortured. Almost all of them belong to the scheduled castes or tribes, or the other backward classes. They are blamed for any misfortune - whether it is a case of flooding, crop loss, or the illness or death of a child - that befalls anyone in their village.
Socially ostracised, they cannot participate in auspicious occasions, move freely, and take up work, not even under the state-run Mahatma Gandhi National Rural Employment Guarantee Act (MGNREGA). In fact, even the families of such women are forced to live like pariahs. Most victims do not lodge police complaints even after violent attacks for fear of retaliation, and have no choice but to continue living amidst their tormentors.
Once labelled a witch, the woman cannot escape the stigma for life. Between 2004 and 2009, as many as 137 women accused of witchcraft were killed in violent acts. However, civil society organisations working with the victims of witch hunting suspect the figures to be much higher than reported.
In order to put a stop to this extreme form of violence against women, the Rajasthan State Women Commission (RSWC) drew up a draft bill - the Rajasthan Prevention of Witch (Dayan) Practices Bill - and sent it to the state government in 2006. But over all these years there has been no action on it. Recently, some women activists met Chief Minister Ashok Gehlot to demand, for starters, at least a ban on the use of words like 'dayan' in the state, until the government enacts a law. But Rajasthan Home Minister Shanti Dhariwal, who also handles the Law Department, gave a disappointing reply. The law, he told them, would create more problems in the village system than offer solutions.
"Like the minister," says Kanchan Mathur, a professor at the Jaipur-based Institute of Development Studies, "the police and the judiciary do not recognise the issue as a serious form of violence." The attitude of the police towards these cases is at best negligent and they encourage the parties involved to settle such matters privately.
To fill the gap caused by a non-existent law, the Rajasthan Home Department, in 2004, had issued a circular for speedy action in matters relating to atrocities against women, especially those involving the execution and prosecution of women deemed as witches. According to this circular, if an incident of witch hunting was reported, the respective circle office, a Deputy Superintendent of Police, was to be held responsible. The order also said that high-ranking police officers should routinely review investigations into such cases.
"But," says Nisha Sidhu, the Rajasthan General Secretary of NFIW, "most policemen are not aware of this. And more often than not, the cases are registered under IPC sections related to causing hurt and rioting (use of force or violence by an unlawful assembly)."
But the law aside, witch hunting needs to be tackled socially. Kavita Srivastava, General Secretary, Public Union for Civil Liberties (PUCL), pins the blame for it on superstition, linked in turn to the lack of healthcare facilities, giving village sorcerers an easy opportunity to brand a woman a witch following the death of a child because of untimely medical care. According to Srivastava, a woman can be branded a witch for just about any reason - if she happens to be assertive, or rejects the sexual advances of someone.
If Rajasthan enacts a law against prosecution of women labelled as witches, it will become the fourth state in India to do so. Bihar (1999), Jharkhand (2001) and Chhattisgarh (2005), already have such a law in place.
As per the draft bill lying with the government, a crime would be considered to have been committed when any person or community intentionally or inadvertently abets, conspires, aids and instigates the identification of a woman as a witch, leading to her mental and physical torture and humiliation. It advocates severe punishment for the guilty: If a woman commits suicide after being called a witch, the accused shall be sentenced to not less than five years in jail, which can be extended to 10 years. They can also be fined.
According to Draupadi Malik, Secretary, RSWC, many reminders have been sent to the government to work on the draft law but to no avail. "Initially, the matter was referred to the Law Department for legal opinion, but after that we lost track of it," she says.
The need of the hour is not just an Act against this medieval practice and action against the barbaric execution of hapless women, but government support to women victims, especially those who have no family or community support, so that they are properly rehabilitated. In addition, the state needs to launch public education interventions against a practice that is a blot on Rajasthan.

By arrangement with WFS