A recent report by 'The Chronicle of Higher Education' in the US highlighted how the downturn in the economy was making university professors rethink their educational programme strategies. According to the report, universities were outsourcing TA (teaching assistant) roles to mothers in India.
Are more and more Indian women giving up their lucrative careers to fill an executive niche at home? "Getting the opportunity to work out of home is, undoubtedly, the best option for mothers willing to pursue their careers. This is because when you leave your infants/toddlers at home and step out for office, you are far too stressed to concentrate on your work, and unless you've parents or in-laws to substitute for you, you would be wishing for office to get done with sooner than anyone else in office," says Neha Shamshery, a stay-at-home working mother based in Gurgaon.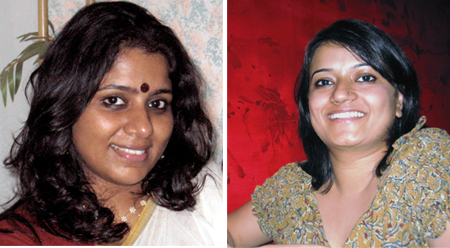 Merlin Francis Neha Shamshery
A communications professional at IBM India, Shamshery feels her double identity of playing professional-cum-mother makes a regular nine-to-five job look like child's play. "While several global companies these days offer work-out-of-home opportunities, combining professional role-playing with child care is next to impossible in the absence of a nanny or trained maid at home. It is especially difficult the first two/three years after the birth of your child," she adds.
Bangalore-based communications professional Merlin Francis did try her hand at juggling the twin responsibilities but found that she was always racing against time. She says, "I decided to end my maternity leave and join office when my son was five months old but when I did, I found it really hard to balance. Work was demanding and I had a lot of responsibilities to shoulder back home; it was a marathon run. I used to be in a rush all the time - setting everything in place at home before leaving for work and ensuring I finished my work commitments on time to reach home before the nanny left."
Francis struggled with this arrangement for six months but when the grind left her feeling sleep-deprived and always stressed, she took the decision to work out of home. "As a mother my priorities changed and home took precedence over everything else; however, being a career woman, staying isolated from professional goals was not something I could come to terms with. My job is the best thing that could have happened to me: I don't feel guilty for not being around my son, Arthur, when he needs me; besides, I no longer worry about lagging behind in my career. The point is I get to enjoy both my personal and professional lives, without making any compromises," Francis observes.
Work-life balance plays a critical role in productive performance of employees and with more and more women joining the workforce, global conglomerates have had to reorient their policies and consider flexible work hours. All top and mid-level IT (information technology) service providing companies today are drafting women-friendly policies: A few examples are IBM, Accenture, Cognizant and Wipro, all of which offer work-out-of-home facilities to their employees. A flex time schedule enables an employee to work the standard hours expected in a week, in less than five days, by varying the length of each work day.
According to an official statement released by Wipro, the number of its staff opting to work out of home is growing every quarter. The logic is simple: As the percentage of women employees drops significantly at middle and senior management levels, and most companies lose out when trained women professionals prioritise and make a switch from office to home, there is no choice but to make work-from-home policies a necessary option to sustain this skilled workforce. The other IT giant IMB, too, has a range of workforce flexibility options such as flexible work-week schedules, part-time employment, leave-of-absence programmes, and selected opportunities to work from home or remote locations.
But can working from home substitute for a stimulating office environment? And don't their office going colleagues have an advantage over them? Shamshery and Francis disagree.
"Women workers look at home-office options as an advantage, not a compromise. Growth opportunities are equal for both office-goers and home workers. There is no discrimination in the appraisal cycle as well. Work apart, social gatherings are organised from time-to-time for people working at the same location to make up for the loss of a real office and allowing virtual colleagues to interact with one another," says Shamshery.
Francis adds, "By staying at home, I have seen my productivity increase manifold - there is no wastage of time shuttling between home and office. At LeadForce1, the management has adopted technology platforms that help employees collaborate virtually; we also call and chat with one another - these are reasons why I don't miss an office set-up. Also, we visit the office once in a while so that we are acquainted with one and all, and find it easy to relate a face to the voice on the other side. Stepping out helps to break the monotony of being rooted to one place, and also helps you drop your reserve."
But if you thought that home workers have it easy, think again. There are multiple issues they have to contend with, including the nanny not turning up; a sick baby compounded with work pressure. "The first thing about being a home-working mom is being disciplined in the way you work. More than two-and-a half years into motherhood, I can say you must always have a plan B in place; meet your deadlines on time and if you can help it, never carry forward work the next day, lest existing plans fail," says Francis. "My leave is always reserved for emergencies," she adds.
Post motherhood, a large number of skilled women professionals also opt for self-employment. "I work whenever my child is asleep or during the time my maid successfully distracts him from me with a game," says Sunanda Rao (name changed on request), a media professional turned independent writer. "In India, however, it is difficult to be self employed and make a fortune while at home. A fair number of women live with their in-laws and have to abide by family traditions; even though they have the means to employ cooks, there are families who prefer to have meals cooked by the daughter-in-law. In such cases, self-employed or stay-at-home working moms find it exceedingly difficult to cope with their careers."
Whether it is better for a woman to stay at home after motherhood or continue to pursue her career and outsource childcare to crèches and play schools has been the subject of many a recent debate. There is no single answer to what is the right thing to do, although all the mothers interviewed are unanimous in their desire to raise their children on their own. Being a full-time mom, while a necessary part of motherhood, however, comes in the way of women who either do not wish to give up their successful careers, or have to work to make ends meet. There are other reasons to continue working after motherhood - for personal and professional fulfillment; to keep up with skill-sets earned in a professional role, and so on. In between this dichotomy of interests and choices, mothers opting for working out of home, or getting an opportunity to do so, seem to be striking the perfect balance.

By arrangement with WFS