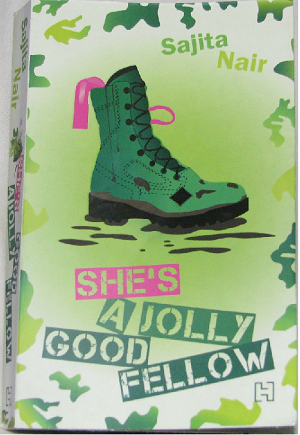 Set in the early nineties Sajita Nair's debut novel "She's A Jolly Good Fellow" was launched at Pages bookshop on 12th June. It is the first ever book written about women in Indian army. Nair is one of the pioneering women officers commissioned in Indian army in 1994. In an online interview the author says "Being among the first few women in Olive Greens, was a thrilling as well as a challenging experiences right from the tough military training to life in remote locations in far flung areas".

The repertoire of experiences in the army has played an important part in shaping her debut novel. Nair comments on Facebook that she started this book with one character and then made it two so that she could work on the humour and bonding bit. Nair claims that both the characters are fictitious and in contrast to each other which make the story interesting.
The book starts with an apt line "On a world stage, when Sushmita Sen and Aishwarya Rai won coveted beauty pageants and heralded the arrival of the new Indian woman, Anju and I were all set to make some conquests of their own: by storming the last male bastion, the Indian army".
Being the first batch of commissioned women officers in army, Anju and Deepa, had to face several hilarious and embarrassing situations due to the stark novelty of a feminine presence in the traditionally male army. Deepa and Anju are buddies from their second day at Officer's Training Academy.
After the training they are transferred together in a remote area of North Bengal. Though they are very close to each other they are totally in contrast to each other. While Deepa prefers to act like a man, likes to be called 'sahab' instead of 'madam' and is the OG (Olive green) type. Anju is more feminine. She wears fitted tailored salwar kameezes matched with high heeled sandals. She was called the 'Zulu Queen' in the academy. Right from the first day after their posting as a second lieutenant in the unit they had to face hilarious and embarrassing situations due to the stark novelty of a feminine presence in the traditionally male army. They get the first shock when they appear for 'PT' in shorts and are asked to run back in front of the whole unit. Later they are admonished by the administrative officer 'You can't expose like that. Were you doing a fashion parade showing off your legs like that'?
They nickname the administrative officer 'Lala'. Even the second-in-command finds it difficult to accept them. 'Frankly, I don't understand why they had to enroll women in the army. It is tough life, not fit for the weaker sex.'
In the evening party the officers' wives had more varied reaction to see them. While some maintained a distance, others touched them, pulled them by their waists and squealed as though they were seeing a rare species of ape. While Anju is able to mix with the officer's wives discussing sarees, make up, designer tailor and later participates in a fashion parade and consequently is admired by the ladies and is invited for all the events of AWWA (Army Wives Welfare Association), Deepa maintains a distance from the ladies and is ignored by them.
Anju is driven by the charms of a handsome middle aged officer and eventually marries him despite Deepa's warnings resulting in a break up in their friendship. Deepa is left alone and is cornered but she works hard to gain the respect of the jawans, hones the qualities of aggression, authority and strength and learns the power of expletives. Lala's habit of 'nitpicking' makes her a perfect administrative officer. Her hard work is recognised.
When Anju joins duty after marriage nobody knows whether bindi and bangles are permitted in uniform. "The dress regulations for lady officers are yet to be formulated…." The same problem is faced by Anju when she is pregnant.
Anju and Deepa are friends again. It is Anju who warns Dips about a guy with whom Deepa had a small courtship. Deepa is the first lady officer who opts or rather insists to be posted in field conditions in desert. She really proves to be an OG to the core. Both Deepa and Anju convince their male counterparts that they too are assets to the army rather than merely those with assets.

A feminist novel to the core proves that girls are not soft. Even Anju becomes a fierier version of her old self. Deepa is comfortable with her femininity and Anju is no longer the 'ultra feminine bimbette'. The novel ends with a happy and vibrant mood and makes us feel that girls can pluck the stars. Daughter of an Air Force officer and wife of a Naval Submariner Sajita Nair is planning to write a sequel to "She's A Jolly Good Fellow".
She's a Jolly Good Fellow by Sajita Nair
Hachette Publication. Price: INR 250