"The tree which moves some to tears of joy, is in the eyes of others only a green thing that stands in the way, some see nature all ridicule and deformity…. And some scarce see nature at all…."
These lines by the well-known English poet William Blake are somewhat reflective of the way in which some of us perceive the issue environment. Nonetheless, in the last few years, environment has gone beyond just saving the trees to incorporate larger and deeper concerns such as "environmental degradation" and "ecological consciousness.: Environment is more than a happening issue to be part of; it is a serious concern for it jeopardizes any efforts for sustainable development, progress and to a large extent our own survival.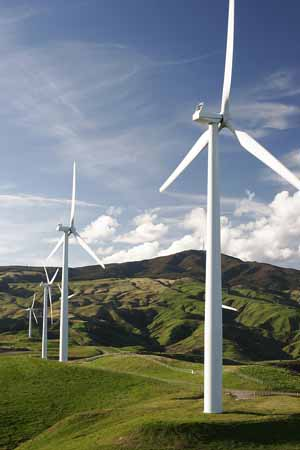 Renewable Energy is seen as an important initiative in the efforts to a greener future as it replenishes energy needs through natural resources such sun, wind and rain. There are various types of renewable energy which can replace conventional energy primarily in the area of power generation, heating, transportation fuel as well as smaller rural energy projects.
However, one form of renewal energy that has been getting much attention is Wind Power where turbines move with a steady airflow to generate energy without creating harmful greenhouse gases like methane and carbon dioxide. However, to be effective in power generation it not only needs sufficient land to be erected but also wind speed to make the turbines move. The last few years has seen the capacity of the technology grow considerably with the United States becoming a world leader in harnessing the power of wind and countries such as Spain, China and India embracing the potential it has to change the global energy production. Although the capital cost for setting up a Wind Power Unit is expensive the fuel cost for Wind Power is negligible.
In 1979, Danish manufacturers Kuriant, Vestas, Nordtank and Bobus became the driving force of the modern wind power industry by manufacturing a number of wind turbines. Though, more than 5,500 years ago, humans were already harnessing the power of the wind to irrigate agricultural lands. In the 7th century, countries such as Afghanistan were using wind power to grind grains. However, the innovations of the wind turbine can be traced to the 1800's with the likes of American Charles F. Brush, Scottish academic Professor James Blyth, and Danish inventor and scientist Poul la Cour undertook experiments and construction of wind turbines. The early 20th century saw small wind turbines were being used in rural areas of the United States and Scandinavia with larger units being slowly incorporated for energy requirements in places such as Vermont (USA).
However, inspite of the advantages, wind power it is not without critics with the noise and aesthetics being an issue with these large turbine across open fields not making a pretty picture. The turbines are also a potential risk to bats and birds. Every year, in the United States for example, 10,000- 40,000 birds are reportedly killed due to wind turbines according to the studies cited by the American Bird Conservancy. The number of bird deaths, nonetheless as studies have shown is still lower than the deaths caused due to impact of fossil fuels in the environment. There are effective measures being taken to address these issues such as noise reducing-modifications to deal wit the noise generated from the turbines.
Today, the world is confronted with serious and complex issues associated with the environment. This range from water crisis to third world debt and the struggle gets harder to find effective solutions to deal with it. Many individuals and organizations are making great efforts to create awareness and push forth policies that would give hope for a better future. But the efforts will continue to be undermined unless the global community realizes the "sense of urgency" in taking effective actions to address the problems facing the world. The use of Renewal Energy as an effective alternative to conventional energy is not without drawbacks and yet it is a positive step that takes closer to a greener and more environmental conscious tomorrow.

By arrangement with Global Times Magazine
Images (c) : Craig Hill