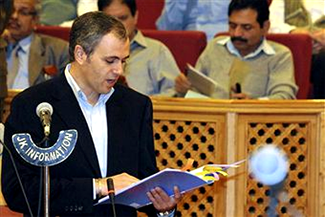 Chief Minister Omar Abdullah heading the Congress Party-National Conference Coalition Government in Jammu and Kashmir has caused political consternation by voicing 'separatist views' more in line with the assertions made by hardline secessionist leaders like Geelani. This should be music to Pakistani and Chinese ears and their timing on the eve of US President Obama's visit to India adds sinister value to Abdullah's intentions. These statements coming after the 'lifeline' thrown to him by Rahul Gandhi, scion of the Gandhi family for his survival as a beleaguered Chief Minister with the Kashmir Valley in turbulence as a result of misgovernance should be a wake-up call for the Congress Government in New Delhi.

Separatist statements made by Omar Abdullah on the floor of the Legislative Assembly in Srinagar on October 6, 2010 as carried in different sections of the Indian media, were as follows:
Advised Indian leaders to desist from harping on "Kashmir is an integral part of India".

Described Kashmir as an "internationally recognized bilateral issue"

"Accession of Jammu and Kashmir took place with India, but the State has not merged with India".

"Kashmir is an outstanding issue which needs to be resolved. It is a political issue and cannot be addressed through development, employment and good governance only".
Chief Minister Omar Abdullah's statements should not surprise anyone with knowledge of J&K political history. Sheikh Abdullah, the grandfather of Chief Minster Omar Abdullah had to be placed under confinement by Nehru for nearly eight years, despite being Nehru's protégé, for his discovered inclinations to declare 'independence' for Kashmir. The Chief Minister's father Farooq Abdullah as Chief Minister had raised demands for restoration of pre-1953 status of Kashmir and full autonomy and roped in tow so-called Kashmiri intellectuals for submitting a detailed justification for it. In face of stiff opposition from all political quarters the proposals were allowed a natural death. And now we have the grandson Chief Minister Omar Abdullah voicing the same demands in more strident tones.
Certain media reports opine that Chief Minister Omar Abdullah this time has gone a bit too far with his stridency and one would tend to agree with that summation. The Indian Republic allows freedom of expression but does not permit such views which in essence reinforce the stand of those who preach seccssion.
Chief Minister Omar Abdullah would have been well-advised to restore normalcy in the Kashmir Valley and give a 'healing touch' to the violence that his misgovernance has generated rather than stoking fires on emotive issues. His inclinations to do so are not discernible as yet while the common refrain may be that all this arises from his personal frustration of being inadequate to the task
Kashmiri secessionist leaders were the first to react gleefully that Chief Minister Abdullah had endorsed and vindicated their stand that India must quit Kashmir. Similar reactions would be forthcoming from across the border from Pakistan. China has already involved itself in Kashmir Valley's secessionist domestic politics by inviting Kashmiri secessionist leaders as was brought out by me in a recent Column.
The last named assertion mentioned above by Chief Minister Omar Abdullah is in direct contradiction to Congress Prime Minister Dr Manmohan Singh's policy line that development, employment opportunities and good governance would assist in weaning away the angry youth of the Kashmir Valley from violence instigated from across the borders and that the State Government should focus on the same.
There have been angry reactions in the Jammu Region and scuffles broke out in the Assembly on Chief Minister's separatist statements. Ladakh and Jammu Region are in a state of anger at the neglect of their regions by J& K Governments being dominated by Chief Ministers from the Kashmir Valley. The peoples of this region are also angry with the Central Government for pampering the Kashmir Valley political leaders who all along have provided nothing but misgovernance.
The Congress Government in New Delhi should have come out strongly against Chief Minister Omar Abdullah for remarks which question the very basic tenets of the Unanimous Special Resolution of Parliament, 1994 on Jammu and Kashmir. Further having been sworn-in as Chief Minister on the Indian Constitution and with an oath that enjoins protecting the sovereignty and integrity of India, these remarks are inexcusable.
It is a wake-up call for the Indian Government whether J&K can be allowed to slip into this state of affairs.