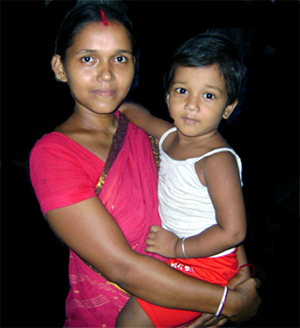 Swapna Majhi, 26, suffers from sporadic bouts of depression whenever she recalls the stillborn baby she gave birth to at the age of 15. "I lost one more baby when I was 17. The emotional trauma aside, I became extremely weak. Even the twins born to me when I was 21 are still very unhealthy, succumbing to illness frequently," she says.
In West Bengal, 14 per cent of the births are by teenage girls between 15 and 19 years of age, giving the state the dubious distinction of having the highest number of teenage pregnancy cases in the country. One of the main reasons for this is that a whopping 41 per cent of the girls, like Majhi, are married below the age of 18, according to the family planning division of the Union Health Ministry.
Sandhya Mondal, Swapna's mother, cites poverty as the primary reason for marrying off her daughter when she was just 13. "In our village of Dhosa Chandaneswar in South 24 Parganas, any poor family will marry off their daughter as soon as they get a good groom. Minor girls get grooms with no major dowry demands. When Swapna's first child was stillborn, the doctor reacted sharply and blamed us for playing with the life of our daughter. We feel guilty for putting her through so much trauma during her teen years especially during her pregnancies, but poor people like us have no choice."
According to Sahana Bhowmik, Branch Manager, Kolkata, Family Planning Association of India, the endemic early marriage and births in Bengal, especially in districts like Malda, South 24 Parganas, South Dinajpur, Purulia, Murshidabad, Nadia, Cooch Behar and Birbhum, reflect a lack of awareness and an absolute failure of campaigns to penetrate areas where contraceptive coverage is most needed.
Education also plays a significant role in this. Most of the girls are not allowed to continue their studies at the higher level despite the net enrollment ratio of the girls at the primary education level being high, says Bhowmik. Gender bias too is a factor, she adds, saying boys get preference over girls for education. When the girls quit their studies, they are immediately married off. According to UNICEF, motherhood among teenagers is nine times more among girls with no schooling than among women with 12 or more years of education.
"Teenage pregnancy is a major cause for maternal mortality. As cases of teenage pregnancy increase so does the maternal mortality rate. This affects the country as a whole," says Dr Subhra Pal Choudhury, Gynaecologist, Bhagirathi Neotia Hospital. About 78,000 women die in childbirth every year in India.
Early marriages seriously affect the health of girls. "Most girls in our country, especially in Bengal are anaemic, their haemoglobin levels are low. The reproductive organs of the girls are not fully developed when they are teenagers. Their lives become at risk during pregnancies," she says, adding, "Even those girls, who deliver successfully, suffer from pain in the back and waist, poor immunity and severe anaemia for the rest of their lives. Their children too are often unhealthy and susceptible to infections."
Sobha Prasad, now 30, agreed to be married at 16 to please her ailing mother in Joynagar village in South 24 Parganas. "My son was born when I was 17. Since then, I have been suffering from chronic back pain. The doctor says it's due to my early pregnancy. I was unaware of the health problems that would occur, otherwise I would not have married at that age," she says.
According to Bhowmik, despite initiatives by the government to prevent the early marriage of girls, campaigns related to risks of early pregnancies and methods to space births have failed to reach the grassroots. While Bengal leads in teenage pregnancies, Karnataka at 11 per cent and Andhra Pradesh at 10 per cent are not far behind. Bihar with eight per cent and Chhattisgarh with seven per cent also signal a poor record in health care for women. As for girls getting married below the age of 18, Bihar leads the list with 46 per cent, followed by Bengal and Rajasthan at 41 per cent.
"In several parts of the country, any talk of providing reproductive and sexual health services to adolescents is still taboo. These have to be tackled on a war footing. Educational campaigns on the risks involved in early pregnancy should become more visible," points out Bhowmik.
While poverty and lack of awareness are the deciding factors in early marriages and teenage pregnancies in rural areas, it is the early sexualisation of children that seems to be playing havoc with the health of teenage girls in urban areas. "Dating has become common and teenagers are having pre-marital sex. Love affairs at school and teenage elopements are also increasing. The impact of media, especially television, is affecting the child's mind. The access to Internet is another factor. Add to this the lack of proper sex education and parental guidance and it leads to misguided sexual explorations often resulting in pregnancy," says Dr Pal Choudhury.
In most cases, parents and guardians resort to abortions. "I had no choice but opt for an abortion when my parents insisted on it," says Sudha Mitra, 15 (name changed), who was dating her classmate with her parents' permission. "They never discussed sex with me and I was not too sure of what it was all about. When my boyfriend insisted on having sex, I could not refuse and we were not prepared for the pregnancy," she adds.
The rate of teenage abortions is increasing proportionately to teenage pregnancies. "Now there are over-the-counter birth control and abortion pills available in the market. With proper awareness, both can work as deterrents to teenage pregnancies. However, the fear is that in our country the awareness levels are low. The use of such pills without medical guidance can lead to bigger health problems for teenagers," warns Dr Pal Choudhury.
Going by the old saying - prevention is better than cure - the first step should be to prevent early marriage of girls. The second step is to ensure that teenagers and guardians are aware of the ill-effects of early pregnancies and understand the importance of contraception, birth control and the spacing of births. Proper sex education, an appreciation of one's body, its needs and health requirements should be made clear to teenagers, irrespective of whether they live in rural or urban areas. If all these conditions are brought about, we can look forward to a nation of healthy women and healthy children.

By arrangement with WFS