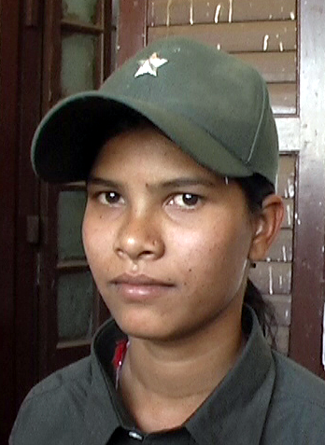 The uncertainties of life play themselves out in tortuous ways, especially if you happen to be a poverty-stricken tribal. Sometimes you are not even allowed the luxury of being who you want to be. Take Sabita Munda, 18, who surrendered in February 2010. She was once part of the ranks of the Maoist Communist Centre (MCC), now operating in Orissa's tribal belt including places such as Koraput, Raygada, Malkangir, Keonjhar, Sundergargh, Nawrangpur, Deogarh, Sambalpur and Kandhmal.
With tears in her eyes, Sabita relates her life story, "I had always wanted to lead a very simple and peaceful life with my parents and family. But destiny had other things in store. Our family was poor and we struggled hard to eke out a daily living. Life took a decisive turn in 2006 when my elder brother died of malaria without treatment, because we did not have the money to take him to the hospital in the district headquarters in time. By the time my father finally sold his only patch of land and took my brother to the hospital, it was too late. My father fell ill after this. To help him, I started working in the stone crushing unit. But conditions were tough and the contractor harassed me very often. I was laid off at one point and two women attached to a local Maoist group began to visit our village regularly. They assured me that they would provide me with employment and help the family. That was how I joined their group in 2007, at the age of 15."
While she was with this group, Sabita married Rahul Juang. One of the reasons for her surrender, she says, was the fact that she was often sexually exploited by the male members of her group, and even her husband was unable to raise his voice against such behaviour. Today, Sabita is wanted in several cases, including for the looting of the Nayagarh armoury and in the Salka Hebrum murder case.
Malini Hosa alias Muni; Bela Munda, 17, alias Lili; Laxmi Pidkaka alias Sunita... There are several women like Sabita with similar experiences to relate. Almost all of them had joined the Maoists to escape an exploitative system that has seen their communities flounder in a vicious cycle of poverty and chronic indebtedness. The nature of credit transactions in these far-flung regions is, by and large, informal. Tribal communities depend mainly on moneylenders for funding a health emergency or tiding over crop failure. And often it is the women who bear the brunt of these reversals. Even today women here have no rights over the forest and they continue to be oppressed through various patriarchal and chauvinistic norms and practices that affect their ability to access schooling or achieve any kind of social mobility. They also often have to cope with the high alcoholism among the males in their families and the indebtedness that this brings. It is in such situations that the Maoists can emerge as saviours, offering material help and a way to resist avaricious money-lenders and corrupt officials.
But the rough life in the jungles, disillusionment with leaders, resentment at being exploited, especially sexually, and dreams of living a normal life, cause some of these women to surrender. In 2009, for instance, at least 29 Maoists gave up arms in Orissa, including 12 women.

The question, of course, is what becomes of them once they surrender. Are they properly rehabilitated? Does society accept them? Does the government provide them with opportunities to lead dignified lives?

The answer to all these questions is, unfortunately, a 'No'. In fact, many of them today are left with a new sense of insecurity. As Sabita puts it, "Now I can neither return to my village nor can I go anywhere else."
Almost all the women who were former Maoists cadres and had surrendered in Orissa after having nurtured hopes of joining the mainstream of the society are living in a limbo. Take Kandiri Lohar of Sundergargh district. She had surrendered five years ago as a Maoist, dreaming of marital bliss, employment, some land and a life of respectability. "I thought once I leave my Maoist past behind, I would be able to lead a happy life. The promises from the district administration were quite reassuring when I surrendered," Kandiri reveals.
The Orissa government's rehabilitation package for Maoists who want to surrender includes a cash award of Rs 10,000 (US$1= Rs 45.7) to meet immediate needs. Those who surrender with arms are eligible to an additional award. There is also a provision for loans if the Maoist who surrenders wants to start some venture.
Kandiri, at the initiative of the district police administration, was married to Sankar Lohar of Bandhamunda in Sundargarh district, in the presence of then Superintendent of Police Jaswant Singh Jethwa. The police made her several promises. "I was assured of Rs 50,000, some land and a job for my husband at the time of my marriage. But four years later, I am still waiting," Kandiri says. Even the marriage turned out to be a nightmare. She had to endure abuse from the relatives of her husband, and face marital violence because her husband would come home drunk every day. And though she has been thrown out of her in-laws home in Bandhmunda Kandiri has not gone back to her parental home in Sagajodi, a border village of Jharkhand and Orissa. Instead she continues to stay alone in Bandhmunda with her three-year-old son and has been struggling to make both ends meet.
A senior police officer shrugs off such accounts nonchalantly, "We want to rehabilitate the surrendered Maoist women according to government norms, but what can we do if they are too scared to go back to their village because of fear of reprisals from the Maoists and rejection by their own people?"
Kandiri is not the only woman to be let down by the state. Many former Maoists today are running from pillar to post, trying to get their promised dues. Among them are Rasmita Nayak and Solostica of Deogarh, who surrendered in 2006; Dipti, who gave herself up voluntarily to the police on November 25, 2007, in Sambalpur; Puspika Tirkey of Mendiakani village in Deogarh district, who surrendered with arms in 2008. Each one of them is yet to be properly rehabilitated. Today, they live in 'Narikarabash' or the women's jail in Sambalpur.
One of them puts it this way, "With the hope of a better life we surrendered, but the government has not kept its promises to us. Poor tribal women don't seem to have the right to lead a decent life. We have no option now but to accept our destiny, locked out from the world."

By arrangement with WFS