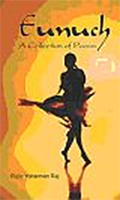 I never knew serious poetry could be so sensual. The poems in Rizio Yohannan Raj's collection of poems Eunuch resonate with shocking sensuality, yet they speak not of the trivial flesh but of the entity language pins down as life and the elusive human self that awkwardly lives it. Her poetry is a reminder of how this phenomenon called language that we have invented can be revealing and concealing, appearing magical like the fireflies of our childhood.
I have talked to Rizio often, but her poetry tells me that I never did. Her hidden depths are those that I discovered in her delightful play with the symbolic. She takes enormous risks with images and thoughts: Take for instance, the lines from 9 August 1945: An Indian Script:

"Today, as we pick the immaculate ones,
a strange fat man crosses our path
with a sinister mushroom in his hand."
We have heard countless echoes of the 'fat man' and the memory has ceased to shock us, but the Indian Script subtly constructs images of mindless violence and stays with us — ominous, black, billowing — never really of the past, always spawning unawares into the present on 'the damp logs'.
There is history, personal and the political, spread over many of the verses in this collection. October Dreams, 1917: A Flashback suggests real people erased with official written history.

"We are pitted against uniforms,
skill arms. Our vulnerability alone
can help us reap our fruits."

The subtle weaving of the Mahatma image into numerous characters from our ancient lores requires rare daring and to present the idea so convincingly, exceptional skill. And she has both:

when you came into our fretful midst with your gospel of survival-
singing hermaphroditic non-violence,
resisting aggression with womanly fasts. (Eunuch)
In her Family Album, the autobiographical sketches are so vivid and warm that the people she talks about emerge smiling and vibrant.
"In the earliest of my recollections,
you grip my hand as we run though the long grass
beyond the cowshed of our old house.
You are two years old, naked and trusting." (Sister)
Again:
I told her how you have only incurred
reveries and losses for yourself
while paying for my liberation. (Mother)
She doesn't lack in a humour either, when she so sensitively talks of the cut chicken in her Sunday Special. A woman of many parts.
Hack.
benevolent indeed;
done before a shriek could escape
in the face of an imminent terror.
As her enlightened readers have pointed out, identity and self are her preoccupations, which make her love poems which she has named Erotica to gleam in the sanctified light of her wisdom. To me who has always found it inhibiting to make public one's sexuality , this discovery of a 'chaste' language in which lovemaking sounds and looks as pure as nature's lush mating seasons, is a gift.
And she has wandered into territories beyond our immediate Universe to delve into our psycho physical being. Skin of the Cyborg is a very complex poem dealing at once with creativity's problem of expressing the imaginative self in terms of the outside reality and questions of self that rack the modern brain. Where do our thoughts reside? In the realm of mechanical data or within the hidden folds of our bewildering consciousness? Is the surreal our path to real knowledge? And what is reality? What is it to be a human being? Frightening questions, when artificial intelligence and biomechanical forms are not impossibilities.
Almost a century after Virginia Woolf asked the question we are still clueless. But there are poets among us, like Rizio, who have not ceased to explore. Rizio's erudition is awesome when she flits from one subject to another and does not leave till she has drunk deep.