It has one of the most gripping narratives depicting the ostracism, stigma and discrimination faced by HIV positive people. But what makes 'Shifa' significant is that the play focuses on the gender perspective. For Tripurari Shrama, the fifty-plus Associate Professor from the National School of Drama (NSD), New Delhi, scripting 'Shifa' meant a chance to reveal to the audiences the various life situations an infected woman has to live through and yet survive.

"'Shifa' means healing and the concept brings out the thought that motivates one to make the journey from stigma towards healing, especially where women are concerned," she reveals.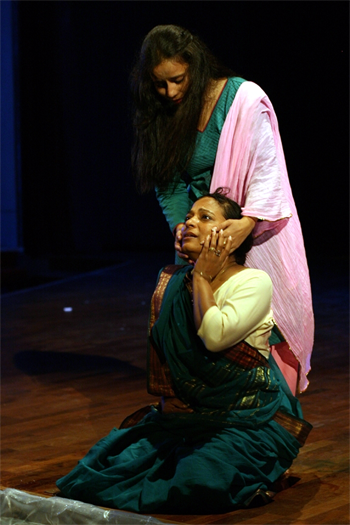 It is the story of Chayya, a well-known pregnant HIV positive actress; Barkha, a girl child born HIV positive; and Naani, a grandmother who loses her family to HIV/AIDS and is left with an infected grandchild - and they all bring out the life-changing impact this disease has on women. "Through the play I have tried to reinforce the belief that women emerge stronger and cope with death with greater strength and determination," feels Sharma.
Shifa's message of hope is projected through the success stories of endurance and survival of its women protagonists. But it has not been easy for the actors to step into such tragic lives. Says Harvinder Kaur, who plays Chayya's role, "The challenge for me was to realistically bring out the desperation of a woman who is being marginalised due to her positive status. I had to live the moments of loneliness a pregnant woman facing death with her unborn child would feel. My effort as an actor was to make a strong point to reflect the humane side of the situation but in an emotional way. It was difficult as the audience too would be grappling with making a choice of supporting someone marginalised with a dreaded disease and a fear associated with coming into contact with such a person."
Guari, 29, an NSD student who has brought the 70-year-old Naani to life, adds, "Although I work with tribals in Maharashtra and Gujarat on developing communication and personality skills in their children, this is the first time I got a real life feel of depicting the existence of a old woman who has seen the death of her family. I kept telling myself how would I react to being in such a predicament and then presented the emotions accordingly. I feel nothing prepares one for such a life so I hope I did justice to the role."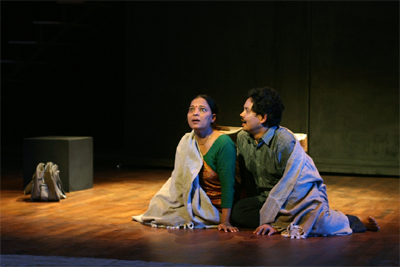 It's these very emotions that Sharma wants her audiences to understand and feel. "Although the story is fictionalised, the instances mentioned are based on real life accounts. Prior to the scripting, a report had been prepared by us through a study done a couple of years ago on HIV positive people and their families. These are some of the stories that we documented and it revealed that women were the most affected and a number of them described their lives like being kanch ki kothi mein kaidh (trapped in a glass house)," she reveals.
As profound as that sounds, the one-and-half-hour-long play meanders skilfully through the lives of three generations and beautifully traces their tryst with destiny. It ends with all three HIV positive women overcoming the odds to come to terms with their condition and live a life of dignity.
To ensure the maximum reach of the play, 13 actors from NSD and an equal number from Bharatendu Natya Akademi (BNA), UP, are touring the six handpicked districts of the state. The performances have been timed with arrival of the Red Ribbon Express, a train that is travelling through UP educating people about HIV/AIDS.
Having already performed at Allahabad, Varanasi and Balia, the troupe put up a powerful show for the people of Lucknow last month with a special performance for students from various colleges in the city.
Of course, it only helps in spreading the word when the who's who of the theatre world is associated with the play - exponents like Jugal Kishore, a veteran theatre personality and Joint Director, BNA, who was also seen in Aamir Khan produced 'Pipli Live'; and Teekam Joshi, this year's winner of the National Award for Young Theatre Artist, have been roped in.
Says Joshi, "For 25 years I have done theatre in Bhopal and then joined the NSD in 1998. But the maximum work satisfaction comes from plays that are based on social issues dealing with stigma, pain and discrimination based on real life episodes. In 'Shifa', I play the narrator linking the audience to the three women and their lives. This really touches a chord. The worst is the legacy of stigma an unborn child has to carry." A fact that is reiterated by Manas Neogi, who plays a HIV infected father and husband who passes on the infection to his spouse and child, "Some scenes carry a message so my focus basically was to ensure that the message hit home. Scenes in which used needles from hospital are stolen and recycled, or the behaviour of high risk groups, all these have been woven into the script and are a part of the role I do. I am very conscious that what my character depicts has a very relevant message for women living with high risk groups."
All the actors' hard work has had widespread impact. After watching the play in Varanasi, Manorama Yadav, an HIV positive woman in the audience, was so motivated that she got on to the stage to speak her mind. Yadav, who contracted the virus from her husband, related her story before a 1,000-plus crowd that heard her out in pin-drop silence. "Seven years ago my life changed forever. My husband began to be constantly keep sick. From local GPs to specialists, we went everywhere but no one could diagnose what was wrong with him. Finally, a distant relative in the medical profession saw his reports and asked us to contact the ART centre at BHU for tests. When the results declared him HIV positive, we were devastated. Things changed - he was too ill to continue working and we became social outcasts. As word spread, first friends and then family began to avoid us. I was left all alone to take care of my ailing husband and a young daughter. He passed away a couple of years ago, but he had transmitted the deadly virus to to me. For the last five years I am living with the knowledge that I too carry the virus within me and have a young daughter whose upbringing I am responsible for," she revealed to a rapt audience.
With her eyes brimming with tears she went on to say how guilty she felt about not being aware of the real facts behind the disease, a knowledge that would have helped her take better care of my husband. But she has learnt from the experience. "Today, I am working to educate and counsel other positive people like me, to ensure they are attended to by medical practitioners and medicines are made available to them. I am all for initiatives like this that help bring health care facilities and information regarding HIV/AIDS to the doorsteps of poor villagers," she added.
The impact of such positive initiatives is important especially in a state like UP. Because 80 per cent of the population live in rural areas and literacy levels are low (36.6 per cent in rural and 57.2 per cent in urban areas), people are extremely vulnerable.

By arrangement with WFS

Images by Ethisham Husain :