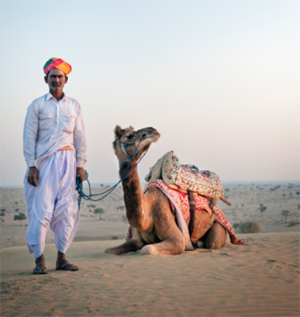 India, the land of diversity has drawn in people from all across the globe to witness its true grandeur; be it the culture, the traditions, the spirituality or the festivals.
The multi faceted Indian terrain has everything going for it. In the last decade or so India has shocked the world with its economic progress and its long term plans. Many industries flourish in India out of which tourism is of great importance.
By 2020, Tourism in India could contribute Rs 8,50,000 crores to the GDP. (Source- WTTC). India is yet to realize its full potential from tourism. The Travel and Tourism industry holds tremendous potential for the Indian economy. It can provide impetus to other industries, create millions of new jobs and generate a lot of wealth for the nation.
The topographical diversity that is present in India explains the rise of tourism. People from around the world visit India and its natural reserves, the mountains and plains. The more the human interference, more is the balance of nature disrupted. To curb this over exposure of nature, a new branch of tourism came into existence called Eco-tourism.
The International Eco-tourism Society is of opinion that eco-tourism is "responsible travel to natural areas that conserves the environment and improves the well-being of local people". There are perhaps many ways to define it, but at the centre of it what it really means that we should enjoy nature and its bliss but never forget our duty towards its conservation as well.
The genesis of ecotourism in India evolved in 1970s from a view to conserve and promote it into a massive global enterprise. The evolution materialised as a reaction to many negative consequences of tourism crime, cultural devastation, destruction of natural landscape and economic discrepancies. The movement grew to include cultural organisations, educational groups, ethnic institutions, and friendship tours.
Although its popularity is gradually gaining acceptance now, it faced several questions in the first few years of its evolution in properly defining and successfully implementing ecotourism. Over the years, ecotourism proved to be a great benefit to the local communities. The strong roots of ecotourism lie in the profitable interaction between responsible tourism and nature travel.
The Indian topography boasts of an abundant source of flora & fauna. India has numerous rare and endangered species in its surroundings. The declaration of several wildlife areas, national parks, and protection laws are the factors that have encouraged ecotourism. Currently, there are about 80 national parks and 441 sanctuaries in India, which works for the protection and conservation of wildlife resource in India.
In India eco tourism can only go uphill. Statistics suggest that each year the revenue grow by 7.7%. In past there already have been many a successful attempts in promoting eco tourism. Even now the future of eco tourism is bright as famous projects like Jim Corbett National Park, Ranthambore National Park, Gir Lion Park, houseboat cruises in Kerala etc that were started a few years back are running successfully.


India is loaded with eco regions that have enveloped great natural sightseeing locations. The gigantic and majestic Himalayas is home to world famous eco sites. One can also relish eco excursions in Ladakh, Himachal Pradesh, Karnataka, Rajasthan, and Sikkim amongst others.
All of these places being mentioned have been pulling in a lot of tourists even before the term eco-tourism was devised. The concept has been there in India for quite some time now but it is the term which has gained popularity now. Perhaps all that was required to give the Indian tourism industry a kick-start was a fancy term, but whatever be the reason eco-tourism is definitely the new "in thing" now.

Image (c) Gettyimages.com