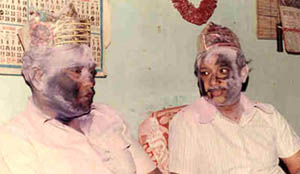 It was 1984 Holi, when I was district magistrate Murshidabad and D.C.Biswas of the Indian Police Service was the Superintendent of Police. We were properly unrecognizable after being drenched in gulal by the constables and officers and were relaxing in the police lines when a message came that Ms.Chhaya Ghosh, the forward block politician, had barricaded the highway to Lalbagh subdivision where the famous Hazarduari Palace is located.
In that state, we rounded up all the policeman in the police lines, all were looking like demons in multicolored disfiguration, loaded them into a police van, and rushed off. We found the lady squatting on the highway with her band of ruffians. As we got off our jeep and the demons off their van, the sight we presented must have been terrifying, as the demonstration melted away, though we had no lathis or arms on display!
In the memorable picture above, I am with Mr. D. C. Biswas.