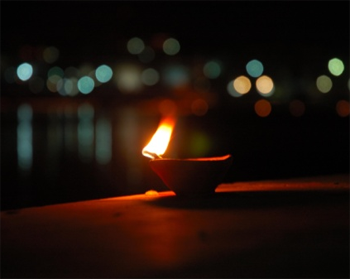 Today, amidst the great Indian urban sprawl, the pulsating beat of the 'dandiya' is ebbing; Holi is losing its colour and the festival of lights, Diwali, some of its traditional sparkle and shine. As with everything else in life, change is the only constant and as for Diwali celebrations, although the festive spirit is largely prevalent, established practices have given way to adaptations that keep pace with the ever-evolving urbane ethos.
Two Mumbai families tell us how they celebrate Diwali. The Dhuldhoya family still follows tradition to a large extent, while the entire Parekh clan opts to holiday together. The 'bahus' tell it as it is...
The preparations for Diwali in the Dhuldhoya family begin with buying of dry fruits and the making of traditional 'nashtas' and 'mithais'. Recalls Rupa Dhuldhoya, "Earlier, we used to make everything at home but now we buy some of the stuff and make 'besan ladoo', 'ghugra' and 'khasta kachori' at home."
Diwali menus remain largely unchanged. On Dhanteras day, typical Gujarati sweets such as kansar are made. On Kali Chowdas, (a day meant to abolish laziness and evil), dahi wada and kheer are a must. Shrikhand and puris are the all-time favourites on Diwali day. The green chawli vegetable is considered auspicious and eaten on all the days. Puris are preferred on all the days of the festival as using the chapatti tava is considered inauspicious.
Apart from the preparing and partaking of good food, other customs are also followed. "On Dhanteras, Laxmi puja is done at an auspicious time of the day to welcome the Goddess of Wealth.
Formerly, our family priest used to conduct the puja but since his passing away we perform the puja ourselves as my father-in-law knows all the rites," explains Rupa.
A time-honoured ritual is lighting a 'diya' outside the main door of the house on all the four days and on Diwali day, special care is taken that the 'diya' remains lit through the night. Rupa also makes a beautiful rangoli pattern on her doorstep. "We like to follow these traditional practices," acknowledges Rupa.
For the Dhuldhoyas, the Bestu Varas or New Year's Day begins at around 5 am. Rupa recounts, "We are up early and dressed in traditional Indian clothes. We touch the feet of the elders in the family, and then go to the temple. The first guests come in around seven or seven-thirty in the morning.
"Trays filled with dry fruit and mithai are laid out, and savouries like corn 'bhel' and appetising drinks are offered. My mother-in-law gives money to all the youngsters who come visiting as a token of good luck for the New Year. Earlier, there used to be a steady stream of about 50-60 visitors through the day, but now the numbers have dwindled," she explains. On their part, Rupa and her family also visit their relatives. A get-together with friends on one of the Diwali days is also on the cards. And after fortifying themselves with good luck and blessings, it is time to return to the normal humdrum of life - until the next Diwali!
Meanwhile, come Diwali and the Parekhs pack up and get set for some quality time with family outside Mumbai! Ami Parekh declares, "In our family, nobody believes much in pujas and we have never really celebrated Diwali in a traditional way other than touching the feet of the elders. The only thing I definitely do is 'spring cleaning' of the house. Otherwise, Diwali is like any other holiday. There is no special significance." As a concession to tradition, Ami makes a rangoli outside the house before leaving for the holiday and the household staff is instructed to light diyas on all the days of the festival.
On her brother-in-law's suggestion, the family decided to use the Diwali break as an opportunity to set off on a holiday that would enable them to bond better, a task quite improbable to achieve in the course of a busy city life.
Thus, a family tradition was born. For the past 18 years, the Parekh family - presently consisting of four generations, which include Ami, her husband and two daughters, her in-laws, her husband's two siblings (older brother and sister) and their families, a close cousin and her family, the married children's spouses and their kids and now her husband's maternal uncle - have travelled to Conoor, Munnar, Coorg, Himachal Pradesh, Goa, Singapore, Dubai and Mahabaleshwar, among other places. For the last three years their destination has been Mahabaleshwar, since it is closer to Mumbai and easy on the parents, considering their age and general health.
"The travel arrangements are mostly taken care of by my brother-in-law, although I handle some part of it. Conventional Diwali goodies like 'fafda', 'cholafali' and 'mithais' are organised by my mother-in-law," recounts Ami.
On holiday, casual dressing is the code, although Ami's mother-in-law indulges herself with zari saris that befit the festive occasion. Reminisces Ami, "Once there, we spend most of our time together. We go for walks and if it is a new place we get a bit of sightseeing done (with Ami as the unofficial tour guide!). Everyone takes turns in keeping the parents company if they are not inclined to stepping out. Evenings are reserved for singing sessions, which last two to three hours. Everybody, including the parents, sing. I am also in charge of games and we play Pictionary, Scrabble, Dumb Charades, Antakshari, and so on. While playing Pictionary everybody is screaming and cheating and bantering in good spirit - basically letting their hair down!"
In the past, the high decibels generated by the vacationing family used to attract complaints from other guests in the hotel. So now they ensure that they have their own private space like a common veranda or else they book an extra room where everyone hangs out. The cousin's husband is the designated photographer and Ami meticulously makes albums of every trip!

Even a good idea needs to take root. As Ami points out, "It took about three to four years for everyone to get used to the notion of taking off on a holiday together and also to adjust to the idea that it is 'okay' to be your own self and have fun!" The children, of course, have always enjoyed the trips and look forward to spending time with their cousins and the rest of the family.
There is always potential for a flare up during holiday breaks but, commendably, the Parekhs have nothing major to report on that front. Ami analyses, "Everyone is mature enough to understand that they need to keep their differences or opinions in check as it helps avoid unpleasant experiences." A worthwhile lesson in graceful behaviour for the children to imbibe.
Introspecting on what she has gained from the time spent with the in-laws, Ami says, "Initially, it took me a while to be comfortable as I was not sure if I could be my own self, but eventually I realised that it was only my own inhibition and nothing else. You get to see a different side to people and with everyone being empathetic and at ease, it helps the family to bond better. These holidays are also an opportunity to connect with the younger generation, which might have not been possible otherwise. Our niece's children, who are the fourth generation, go with us even if their parents are not accompanying us!"
It pays in other ways, too. Time spent together, smoothens the relationships even when they are back in their routine lives. Clearly, a family that vacations together stays glued together!
Final Prognosis: it's family first on Diwali, traditional or otherwise!

By arrangement with WFS