It was a noon time. A poor man was trying to sell his sub standard music drums called as Dafli which are played with the help of hands. He was merely successful in doing go. Along with him were sitting his poor children waiting for a customer; if he buys the drum they are going to get the food. Suddenly a man comes to the man. Not bearing the pain of the poor condition, he just lifts up one of those drums and starts playing them. Within a moment, the whole crowd is enchanted by that magical rhythm played on those very ordinary drums. For the entire time, people are out of their senses. The performance is over. People within a moment, hypnotized by that divine music, take out whatever they find in their pockets and put it in front of the man. That man collects all that money, hands it over to the owner of the drums and without speaking a single word, leaves the place.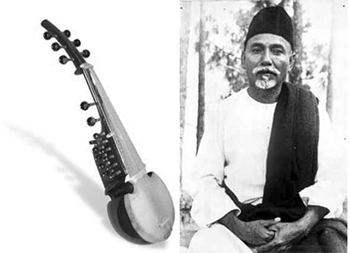 This soft hearted and India's most loved and most respected musician was,Ustad Allauddin Khan. What we call as divine music is the music of Allauddin Khan. Allauddin Khan with a lot of efforts was accepted as a disciple by famous Veena player Ustaad Wazir Khan of Rampur. He was court musician to the Maharaja Of Maihar Estate.
Ustaad Allauddin Khan unlike other musicians, never practiced music as an profession. He was completely absorbed in music or rather music had absorbed him completely. He had reached the highest peaks and also the deepest and most subtle roots of the music. Allauddin Khan was a Sarod player, but he could play any instrument with so much mastery that anybody would think that this man must have wasted his whole life in playing that instrument. He could play all sort of instruments with equal ease and equal command.
As a musician he was the most successful; but as a Guru or Music master also, no one will deny the fact that he was most successful. He was father and Guru of world famous Sarod player and one of the finest musician of this country, Ustaad Ali Akbar Khan and very divine SurBahar player, Shrimati Annapurna Devi (Pt.Hariprasad Chaurasia is a pupil of Annapurna Ji). Many of the most successful musicians like Sitar player Pt. Ravishankar, Sarod player Pt. Nikhil Banerjee, flautist Pt. Pannalal Ghosh were his disciples. If we consider producing a chain of worthy disciples as a success, no one is as successful as Ustaad Allauddin Khan.

Another big contribution of Ustaad Allauddin Khan to the world of music is world famous Maihar Band. This band was Started By Allauddin Khan by training orphan and disabled people.He himself taught them various instruments and took the band to very high reputes.

Along with the musician, Allauddin khan was a very spiritual person. Greatest musicians of those times and also today's music lovers, with love and respect call him Baba, which means father. He was also one of those rare musicians who explored themselves through music. He was equally in love of all religions and also always absorbed in the godliness. Bhagwan Shree Rajneesh, also known as Osho was very much interested in Baba Allauddin Khan and used to visit him frequently. When Osho was asked that if he knew any musician who had attained enlightenment through music, Osho answered that it was only Baba who had realized the self through his music. As Osho says, while playing the Saord, Baba got his enlightenment. As at that time Allauddin Khan was above 100 years old, his delicate and fragile body could not bear that load, and Allauddin Khan left his body at the very moment.
This essence of his divine search can be felt in the music of Baba Allauddin Khan and it is a real mystical experience to listen to his music.