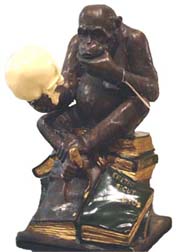 Rodin was wrong.
The "thinker" does not embrace reality.
Instead, with furrowed Simian brow and cortical simplicity,
she ascends the ladder of knowledge,
Not with mastery in mind
but with dominance clear in her stance.

Is the pose denigrating or celebratory
of the apparent devolution of the species?
Is the scalded skull,
pristine in its complexity,
an object of threat or of reverie?

Reptilian-like,
the wizened creature halts
in time and space,
Turning only her derisive,
myopic gaze towards truth and progress.
The smallness of her mind
does not limit the power of the travesties she commits.

Can she target and maim with impunity?
It seems so…
Giant, amorphous, mindless
but lucrative corporations form her spine.

Perhaps Darwin was wrong too.
Perhaps no movement is possible.
I hope not.
I hoped that a crescendo of new voices and ideas
would give rise to a fresh symphony,
Despite the legacy counterpoint and cacophony
created by materialism.

I do not know any longer….
There are a lotta lata "latte souls",
Saccharine-sweet, ferret-like minds hidden within,
consumed by hate and frothed with cream.

Instead, I beseech you,
gaze deeply into the sockets of wisdom and honor.
Look for shared humanity and the universality of "soul",
Not with mastery in mind
but with humility clear in your posture.

Neither value nor vilify anencephaly.
Valor and veracity are worth more.
The skull is fragile….
Smash,
it is gone,
while we clamber as best we can,
still pandering to others.

Dedicated to my niece, Samantha, a young bi-racial woman of Indo-Canadian descent who, despite the many pressures she must face, nonetheless has an openness of spirit to be commended.