The reign of Shah Jahan was one of unparalleled prosperity. The Mughal empire now stretched across almost the whole subcontinent, and the imperial court was amongst the richest in the world. India ran a flourishing trade with Europe and the East. Embassies and foreign diplomats, among them the Englishman Thomas Roe, were present at the court. It seemed that the empire would last forever.

Shah Jahan was a ruler exceptionally given to be a patron of the arts and architecture. As most rulers did, one of his first acts was to found a new city, Shahjahanabad, the fort of which we have discussed previously. Along with military structures were also religious buildings, like the Jama Masjid at Shahjahanabad, Agra and Agra fort.

Jama Masjid at Delhi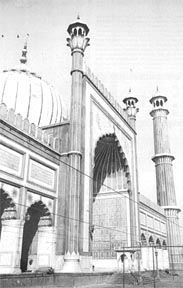 The Jama Masjid at Shahjahanabad is raised on a platform surrounded by arches, and is built on an exceptionally grand scale. In fact, one of the requirements for the Viceroy's house built by the British (and now Rashtrapati Bhavan) was that its dome should be higher than that of the Jama Masjid, as a symbol of the supremacy of British power over the previous emperor.

The great central arch of the frontispiece of the qibla qubba masks the dome behind, and chattris set off the entrance pavilions. The Jama Masjid is accessed by monumental gates and steps from the bazaar below.

Today the bustling bazaar around the masjid is known for its delicacies and the roofs of the houses around the masjid form a dense network of terraces from where ancient and time-honored sport like kite-flying and pigeon-flying are still practiced.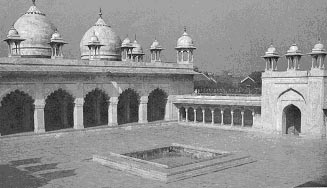 Mosques at Agra

The small but beautiful Moti Masjid is in the precincts of Agra fort. This mosque entirely clad in white marble has calligraphy in black marble, and perhaps served as an experiment in completely decking a building in this material before the Taj Mahal.

Lahore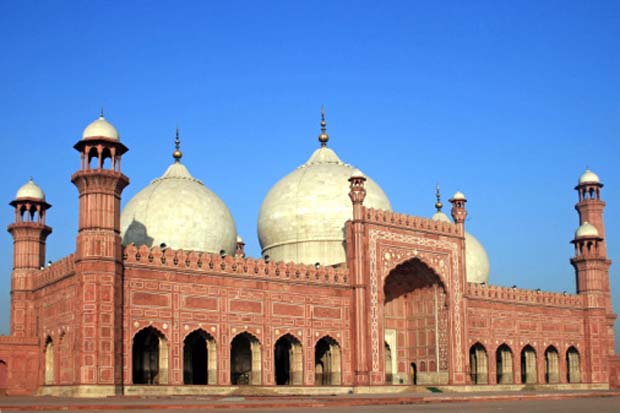 The Badshahi masjid in Lahore is comparable to the one at Delhi in size and importance, but its splendid free standing prayer hall has a minar at each corner, as does the courtyard. The squatness of the corner minars, however, does no good to the proportions of the mosque, and the decoration in terms of patterned panels on the sandstone clad surface is more effete than a strong statement.

Abdur-Rahim Khan-i-khanan's tomb at Delhi

Late in Jahangir's reign, Delhi witnessed an evolution from the tomb type exemplified by Humayun's tomb, which had partially continued in Jahangir's mausoleum as well. A tomb was built near Humayun's memorial for Abdur-Rahim, the khan-i-khanan during Akbar's reign. For the first time, this tomb is higher than it is wide, and the chattris on the terrace crowd more closely around the main dome. This composition was to be further experimented with in some more subsidiary tombs before its final refined appearance in the Taj Mahal.


Image of Badshahi Masjid, Lahore under license with Gettyimages.com