I live in a quiet neighborhood, which boasts of a green patch, in the midst of a concrete jungle (the city). Mr. Rao, my neighbor lives with his wife and dogs, in a small cottage, encircled by a large garden with flowering plants and fruit trees....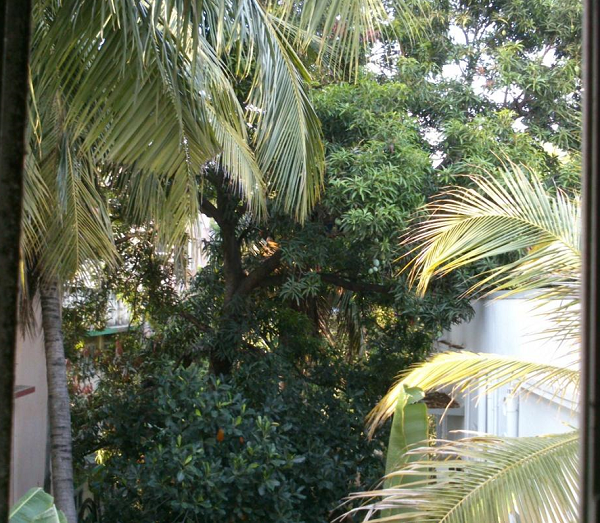 It was five o'clock on a Sunday morning. I could not sleep, as birds were chirping merrily in Rao's garden. Hundreds of green, ripe fruits hung down from the sturdy branches of the mango trees. An orchestra of cuckoos, parakeets and crows was on. To miss this scene, was an insensate thing to do.
My IPad mini was on the bed, for, I had been reading before going to sleep, the previous night. Delighted by a cuckoo's call and its mate's reply from somewhere, my feet firm at a spot beside the window, I focused the camera on the tree. Although I could not see much through the dense foliage, the twittering was music to the ears. At that moment, Rao, a tall, robust man with a bald head, was watering his flower plants. He wore a T shirt and Bermuda and was bare-footed. He was at ease, content in his small world.
A few minutes later, Rao's maid servant, who was dressed in a brightly-colored saree, came out into the garden to sweep and clear away the dried leaves and half eaten mangoes that had fallen on the ground. The maid's loud chatter in the midst of the sweeping drowned the melody of birds.

The joy ended abruptly, so, I shut off the camera. Tryst with nature ruined by human interference!