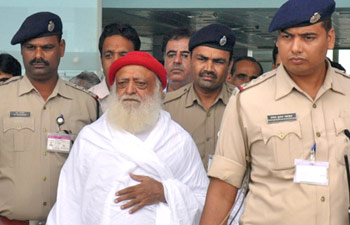 Today morning with Asaram's arrest, many right-minded Indians heaved a sigh of relief. I feel sorry for those associated with him or his chain of Ashrams and schools. Many declared Asaram devotees now face the threat of social disgrace. Since their controversial guru is allegedly a rapist, they might be either victims or perpetrators of such crimes. The victim in this case belongs to lower economic class.

Two children of the family were studying in an Asaram school. This fifteen year old got sick. Her parents were informed. They came and decided to take her to the hospital. But instead they were told that Asaram would cure the girl and there was no need of a doctor. Then the incident took place within iron curtains of secrecy. The father of the child did not compromise. He rejected offers of money etc. and went to register an FIR.

We can say that poverty was the crime of the family. The intentions of parents were correct. They did think of this fraudster Asaram as someone divine and worth worshipping. They were cheated. Their faith was broken.

The likes of Asaram are the real enemies of the Hindu faith. These self-proclaimed god men sometimes commit every possible crime and every possible sin and the name of religion gives them protection. They are giving the Hindu faith a bad name and a hypocritical image. The appalling thing is that even in this, some people are playing politics. The fact that some people can even speak in favor a rape accused is appalling indeed.
If India can come together for Nirbhaya or the Mumbai photo journalist, why can't we unite for this poor teenager? Think of the mental havoc she and her family must be going through.

I personally have a long standing aversion to gods in the human form. I love God. I cannot live without praying. But I cannot stand god men. The grandiosity, the self-proclaimed divinity, the antics, the sheer difference between a human being and others violates my senses. Anyone, howsoever great or criminal or psychotic or powerful or wealthy is a human being after all. But then, democracy has not gone down into the psyche of the masses of our country. The fact that all human beings are equal finds no takers.

The game of god men depends on mental strength. I remember once having read an anecdote of Rabindranath Tagore. Tagore as a boy was once strolling in a street. A roadside magician was playing tricks. He was showing that a rope was standing firm and straight. We all know that this is well known trick of hypnotics. Well, Tagore went and told the poor magician that he should stop telling lies because the rope was actually lying on the ground and that he could see it there. The magician took Tagore away and requested him to go away as the show was meant only for the ordinary people. This is exactly what happens with god men. The mentally weak get into their trap and get cheated.

Let's hope and pray for an India where nobody would be uneducated, poor and exploitable.
Comments on this Blog
---
| | | |
| --- | --- | --- |
| | Subhaji, Well written article. It is anybody's guess as to how many crimes he would have committed prior to this before this. My question in this regard: Why can't the law-enforcing agencies come down heavily on all such godmen. Should they wait for a complaint to be lodged by a victim? People also need to be educated. I regularly hear lot of ads over radio and TV by state and central governments about energy conservation, consumer awareness, social responsibility etc. But yet to hear a single one against superstition, I strongly feel that the governments have a major role in making people to think and act rationally. | |
---