She has a long face with a pointed nose and chin, thin and attractive lips, and jet black short curly hair. Priyanka looks strikingly similar to her grandmother, as well as the two-time Prime Minister of India, Indira Gandhi. Like Indira, she also walks fast, attracts a large crowd, and connects with ordinary people. One has to wonder if the doppelganger in question will someday hold office like her grandmother.

In a society dominated by men, a woman in India is a mother, wife, care-taker of her in-laws, and protagonist at family functions – whether it is a joyous or cheerless event. In India a woman's personal ambition comes last, that is if there is time to even consider it at all.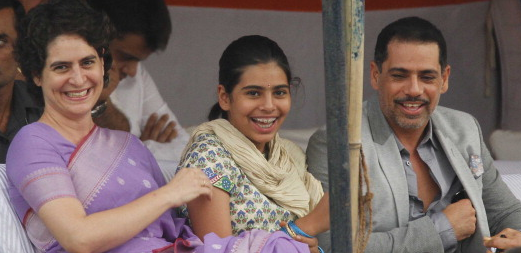 Priyanka Gandhi Vadra (L) with her daughter and husband Robert Vadra
during Dussehra celebrations ahead of the burning of the effigy of the Ravana
at Shri Dharmik Ram Leela Committee at Susbhsh Maidan on October 13, 2013
in New Delhi, India. (Image (c) Gettyimages.com)
The young 41-year old Priyanka Gandhi is no different. She claims to be a happy mother to her two young children and wife to her husband, with no interest in politics. She tells the public she helps her family in any way she can, just like any Indian would help her/his parents and siblings in time of need. She often accompanies her brother Rahul Gandhi and her mother Sonia Gandhi on the campaign trail. In 2012, at the urging of her brother, she made over 50 stops and canvassed for Congress party candidates running for the state assembly in the Uttar Pradesh state. Though the party suffered a huge loss, Priyanka nevertheless remains extremely popular.
Indira Gandhi received training in domestic and international affairs from her late father Jawaharlal Nehru, the first prime minister of India, and it is quite conceivable that Priyanka is learning from her mother and brother. She is fluent in both Hindi and English, and is an engaging and effective communicator, similar to her late grandmother Indira Gandhi. She comes across as a genuine person in her speeches and interviews. Just like her grandma, she seems have a sixth sense for detecting the pulse of the public, which is further helped by her degree in psychology.

Some in the Congress party believe that she could be a formidable campaigner, as well as a candidate in the 2014 general election, but at the same time her family background could also be a hindrance. The Nehru-Gandhi family is no longer as popular as once it was.

If the public were to evaluate her without any bias, and if she decides to relinquish her role as a traditional Indian woman in the home for a run at public office, she could definitely give BJP candidate Narendra Modi a run for his money.