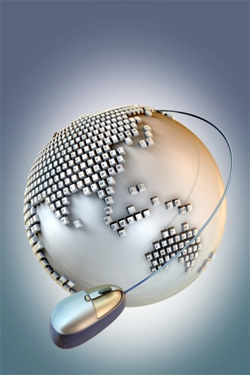 The other day I sent an email to my young student friend (I am a retired scientist and teacher) in Abu Dhabi as I haven't heard from him for quite sometime. The reply came the next day saying that he is doing fine and apologizing for not maintaining the contact thread. Really, I felt happy to hear from him almost instantaneously though he is working thousands of kilometers away from me. Is it not the advantage of the advances we have made in recent years?
I am a person who is very fond of pens and writing with fountain pens. But, off late I have become addicted to computers and I hardly write a line in English on a piece of paper. Whatever, I write in the media are only typed in the PC. Earlier, there was a time when my thought process would proceed only if I sit with a pen and paper and only after I satisfy myself with the hand written manuscript I transport it to the PC. Now, I am changed. I am able to directly log on to the PC and with the result no writing, my pens turn dry and my hand writing has turned from bad to worse.
At least I have been writing in Tamil with the pen and paper. My stories are always hand written and sent. I use black ink and I know my Tamil hand writing is not that bad and it is quite legible unlike my English where the cursive writing many times baffles the reader. But, alas, a month back, I received a letter from the Tamil weekly which publishes my stories informed me that hitherto my stories have to be done in word processer and sent. The last three short stories I have sent also have to be converted into typed scripts and to be passed on to the editor was the cryptic message I received from the press over the phone.
Once I was writing memoir but for the past few years even that habit has died. I don't write letters to my friends in paper and neither they to me. Letter writing and hand written letters have almost become obsolete affairs in the present day milieu.
The only writing probably I do now is writing the cheques and signing them. For those who do internet banking I am sure even this would have been absent. So what purpose the hands and hand writing serve? In the western countries especially in the USA, the youngsters are already not aware of what is meant by 'good hand writing'. The same culture is slowly infiltrating on us. With the advent of mobile phones, a couple of other dangers have crept in. I could hardly remember any phone number except mine; even if someone suddenly changes a digit in my ten digit number I may likely to get flummoxed. The second one is the English spellings for the words. The silent letters have been sent out most of the time; like 'You' has been replaced with just 'U' and so on.
Understandably things are faster; life goes faster. The fastness with which I receive the reply or response from my young friend is also forgotten. Earlier, I used to keep the important letters of my friends and luminaries (one blessing message from Mother Teresa too!) and look at the handwriting and read it and muse over it. The hand writing carries an identity or a character like the person which communicates with the reader something personal. There are no personal touches now. Only bland printed messages or funny forgettable emoticons as fast as we read them or see them.
So technologies have definitely made certain things easier and fast; but at the same time many of us lazier and mechanical. Should we name it intellectual and scientific development or physical and cultural deterioration? Please enlighten me.