I am an old-timer and very fond of the Hindi songs of yester years. But I have no prejudice and listen to new songs as well.

It occurs to me that the present day singers who are popular and have made name, lack the variety with regard to the voice which was there in older days.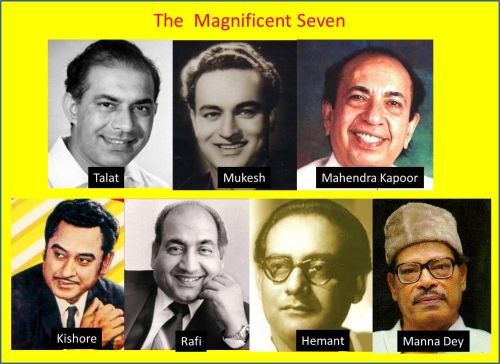 Consider the male playback singers. I pick seven great singers who were the most popular seen in the picture. The pictures are arranged in this order on purpose. Talat had the softest and the most melodious voice. Manna da had the deepest and the most sonorous voices. Mukesh, Mahendra, Kishore, Rafi and Hemantda fill the space to complete the spectrum like VIBGYOR. This wide voice variety appears to be missing among the present day singers. Most of the singes voices comparable to that of Rafi.




Among female singers I find it difficult to grade the voices. The leaders were the fabulous four seen in the picture. Asha's and Geeta's voices were distinctly from those of Lata and Suman. Additional variety was provided by singers like Shamshad Begum, Mubarak Begum, Noor Jehan etc. This variety is also not to be seen among the present day female singers. Popular singers have voices like Lata's.

There are two immortal songs from the immortal movie Sahib Bibi aur Gulam. The songs are Asha's Bhanwara bada nadan hai and Geeta Dutt's Na Jaon sayyan ..,. The lyrics, the tune and the voice quality in each case are responsible for the immortality.

Nostalgia: Oh! To be in fifties and sixties again !!