If the only prayer you said was "Thank You", that would be enough
- Meister Eckhart
- (Thirteenth century German Theologian)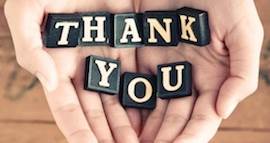 Yes, the magic words are THANK YOU.

The words are not alien to us. We use them countless number of times each day. But we can introspect and try to use the words more often in our daily life. Basically we express our gratitude to another person for the help rendered when we say Thank You. The implication is that you thank a person acknowledging a favour. But the words are not forbidden ones and can be used unlimitedly. You can thank another person for any act of service even if the act is his duty (for example the security guard who opens the gate for you).

On my first trip to the United States, it was a pleasant surprise to notice commuters thanking the bus driver while alighting from the bus. From day two onwards I became the proverbial Roman in this respect. The habit hasn't left me ever since and am putting it into practice in India too. I make it a point to thank auto rickshaw and taxi drivers at the end of the trip. There is pleasure in doing so. The pleasure is even more when you realise that you have made the driver happy by your words which has cost you nothing.

There is another aspect here. People generally expect to be thanked. Let me quote from Robin Sharma's book "The Greatness Guide".
"If you do something good for someone with expectation of reward, it's not a gift – it's a trade. I know that good things happen to persons who do good things. Life has a fair accounting system and as one sows, one reaps. But still I'd like to hear those two magic words more often".
Through these words, I am sure that Robin is echoing the sentiments of millions of human beings.

One of the walls in my High School building carried the message "Civility costs nothing, but buys everything". Expressing thankfulness is just one act of civility.