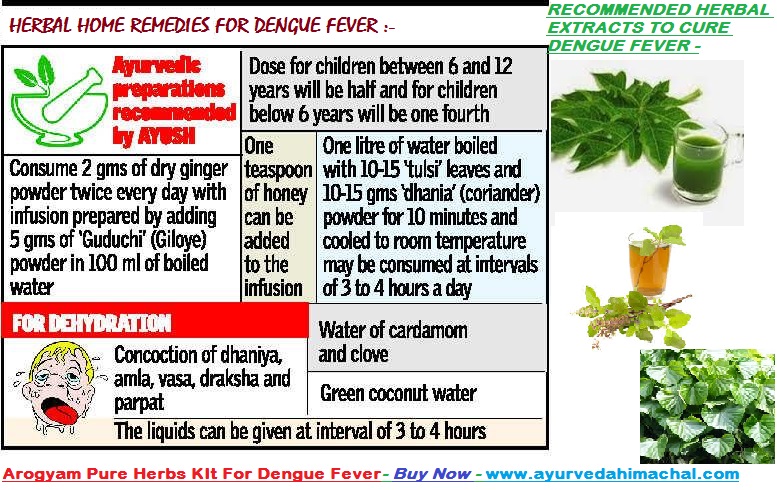 Natural Herbs has proved its efficacy in treating such deadly diseases like DENGUE successfully without any side effects. Lets create awareness and spread world wide this piece of knowledge, so that it may help to save a life.
Dengue Fever :-
Ayurvedic Name: Dandak Jwara
Other Names: Dandy fever, Three-day fever, Breakbone fever.
What's is a Dengue Fever?
Dengue fever is a disease caused by one of a number of viruses. These viruses are spread by the bite of mosquitoes and are transmitted to the human body. The disease is very common in tropical and subtropical areas of the world (including some islands in the Caribbean, Mexico, most countries of South and Central America, the Pacific, Asia and parts of tropical Africa). In these locations, the dengue fever arbovirus is endemic, meaning that the dengue fever virus naturally and consistently lives in that location and the virus are not carried by mosquitoes.
Who gets Dengue Fever?
Dengue fever can occur to people of all ages. Children usually have a milder disease than adults.
What's are the causes of Dengue Fever ?
When a mosquito carrying dengue fever virus bites a healthy human, the virus travels in the blood stream and then starts multiplying itself in the whole body. Dengue fever is not contagious, which means one person cannot pass it directly to another.
Dengue fever is also a type of arbovirus, which is short for arthropod-borne virus. The main virus causing dengue fever is carried by a mosquito named "Aedes aegypti" which transmits the virus to humans through its bite. An organism that carries a disease, without actually developing the disease itself, is called a vector. Aedes aegypti works as a vector for transmitting the disease.
An another cause for dengue fever is a virus name flaviviruses. More than 100 million cases of dengue fever occur every year in a whole world. A little bit percent of these develop into dengue hemorrhagic fever. It is possible for a traveler who has returned to the United States to pass the infection to someone who has not traveled. Risk factors for dengue hemorrhagic fever include having antibodies to dengue virus from prior infection and being younger than 12, female, or Caucasian.
What's are the symptoms of Dengue Fever?
The symptoms of dengue fever are generally seen in around three days after transition of virus to humans through mosquitoes bite and after that patient starts feeling very weak. Dengue fever, however, is not a fatal disease.
Dengue fever may vary on an individual basis for each patient. One should always remember before looking for treatment that over-medication in dengue fever is likely to lead to further complications and some times it may also turn slight serious. A mild attack of the fever may pass off without having to administer any medicine.
Some of the main symptoms of dengue fever are listed below:
Dengue fever usually starts suddenly with a rapidly climbing high fever, that's why the temperature in dengue fever is called a 'saddleback' type temperature.
severe headaches.
Retro-orbital pain behind the eye.
nausea & vomiting.
loss of appetite.
rashes develop on the feet or legs 3 to 4 days after the beginning of the fever.
Swelling and pain in muscles and joints.
The joint pain in the body has given dengue fever the name that is "breakbone fever".The common symptoms of dengue fever may go in around 10 days, but complete recovery from dengue fever can take more than a month.
Herbal Treatments for Dengue Fever
There is no specific treatment for the treatment of classical dengue fever, and like most people you will also recover completely within 2 weeks with only natural herbs.
For severe dengue symptoms, including shock and coma, early and aggressive emergency treatment with fluid and electrolyte replacement can be lifesaving.
Some treatment options that may enhance the curing of classical dengue fever are listed:
1)Papaya (Carica Papaya) Juice is the most effective cure for dengue fever. Papaya leaf juice plays a vital role in the restoration of platelets. Carica Papaya juice is a tonic for heart and also used for the treatment of fever, pyrexia, syphilis, diabetes, gonorrhoea, and also for dressing foul wounds.
2) Mix 360 mg of Shunthi Churna with 125 mg of Hinguleshwar and now take this mixture at least 4 times daily, you may take with tea or hot water. If case the temperature of the patient rises beyond 104°F (40°C), then you may apply cold pad, on the forehead till the temperature subsides.
3) Another strong antiviral herb is Ocimum sanctum (holy tulsi), you can directly consume 10-15 leaves of Ocimum sanctum 3-4 times daily, or you can prepare basil tea by boiling 15-20 leaves of basil along with 4-5 black pepper and 50 gm. of Fenugreek.
4) Giloy or Amrita is an anti-inflammatory (that reduces inflammation) and antipyretic (that reduce fever) herb.his wonderful Ayurvedic herb helps in raising the efficiency of protective WBC (white blood cells) and builds up the body's own protection mechanism known as immune system. It is used as an immunity booster in certain ailments like jaundice, hepatic fibrosis and seasonal fevers. Giloy or Amrita has proved very effective in preventing fibrous changes and promoting regeneration of the liver. It is a very good and helpful diuretic agent that helps removing renal stones and reducing urea from the blood. Giloy has antibacterial, anti-inflammatory, anti-rheumatic, and anti-allergic actions.
Pure extract derived from the dried herb is called the 'Guduchi Ghana Satva' or Giloy Satva. It is a very fine powder that carries great abilities of the herb Guduchi. The positive thing about Guduchi Satva is that even in minor doses, it works miraculously.
5) The best remedy is to take white inner bark of Neem (Neem antarchaal), Rasont (Daruhaldi) and Satva Giloy, all in equal quantity, ½ tsp with warm water. This protects from all types of infectious fevers.
6) Juice of 1ft. long branch of Giloy and seven leaves of Tulsi; boiled and taken as a herbal drink enhances body's resistance level up to three times. It also increases platelets count, which decreases considerably in Dengue fever.
Cure Dengue Fever Naturally With Natural Herbal Extracts - A Complete Package Arogyam Pure Herbs Kit - To Know More About It Contacts Now :-
Regards
Dr. Vipul Sharma