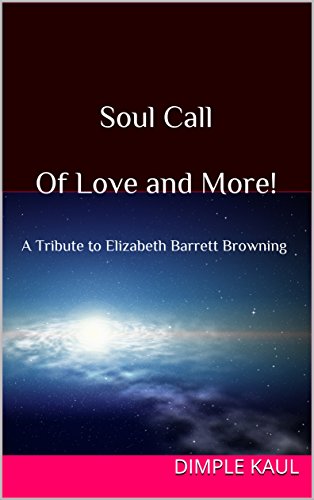 Life hinted-love is never fair, I had my doubts
Life gestured-Love doesn't truly care, I had my doubts
Dimple Kaul, Soul Call, 2017
Just like classical music in the world of popular music, poetry books in the world of fiction and non-fiction bestsellers have been forgotten. When was the last time a friend suggested a poetry book for you to read? In our digital age where we tweet one-liners a hundred times a day each one of us is trying to sound like a poet. We base our popularity on the likes and re-tweets.

But this poetry week, I downloaded a slim volume on my Kindle. As slim as the volume is, it took me sometime to set aside to read it. May be because I wanted to cherish it, like my favorite chocolate.

A set of twenty poems, begin with a preface that narrate the poetess's love affair with words and her admiration for Elizabeth Barrett Browning's style of poetry.

So, its not a surprise that Kaul's poems are a dedication to love, various aspects of love, and cover a range of emotions.

I Love you,
As night loves stars
A warrior his scars. (Kaul, 2017)

Infact, there is a poem dedicated to Browning herself.

While reading the book, I was very aware that I had not read a poetry book in a while. And so, I paused between two poems, and relished the impression the beautiful stringing of words had on me.

I must admit that I have been following the author via her blog, tweets and some online pieces. Kaul belongs to a disappearing breed—the bi-lingual writer, as she writes equally brilliantly both in Hindi and English. What was even more admirable was that the book was a result of a healing process for Kaul, who chose to write this during her recovery from a near fatal accident. To write about love when one is healing is an arduous task, which the poetess has performed beautifully, and the effect is visible in poems that reflect light on love from numerous angles.

After finishing the book, I knew that this is something I will return to it multiple times, as I have my other favorite poets, for the poems touch upon various feelings, and experiences associated with the concept of love. So universal are the poems on love, that the readers will definitely feel that at least one poem is a telling of their personal experience.

As is evident from the following reviews of the book on amazon:

A short collection of the author's poems. On love, life, separation and relationships - the author has a rare talent and a poet's sensitive heart that shines brightly through. Also do check out her website for some more stunningly written pieces.

Awesome! read. Beautiful poetic devices integrated in the poems with a hint of reality. Touches your heart and you can so much relate to each poem. Impressively, captured yet with simplistic selection of words. A great read ! for all those who even have not been great fans of poems...
Soul Call is available at a nomimal price on amazon.com