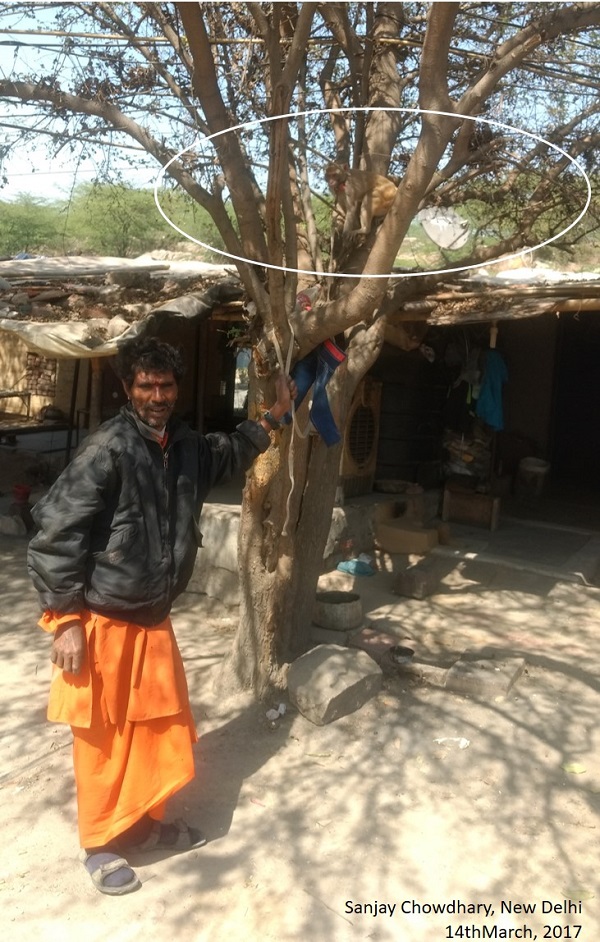 This picture shows a man using his leashed monkey hop on to branches allowing it to entice another young simian to catch it. But there is more to the story than can be seen.

You can't miss the monkeys, the banana sellers, and of course the 'Bhaktas' who buy the bananas to feed the monkeys; on this stretch of M.B. Road (Mehrauli-Badarpur Road) that passes through the Tughlakabad Fort and surrounding forestry. It may sometimes happen, that a young one may go astray and get separated from his monkey family. Now this young one is there for anybody to catch!

Early this year, I made a few trips to South Delhi slums while doing a write-up. The more you indulge with life, innumerable stories make themselves available. Every place and everybody has its own tale. As I stood engrossed with a stranger hardly ten meters away from action spot, looking at my eyes and pointing towards my rear, the stranger said, "Now see this show!"

This man had vulture eyes! God knows from where he noticed a young monkey alone on a branch of this well leaved tree. I couldn't make out from where he appeared. A lot of commotion caused by kids of jhuggies attracted my attention, so I moved a few steps to closely see what was going on.

"Go away, go away", he shouted but the kids clapped and danced around for the spectacle. He was holding the leash. By now, he had already let his leashed monkey climb over the tree. I could see another young monkey on a distant branch he had come to catch. While shooting the video, I asked him, how it happens? He said smiling, "It's simple. My monkey will make friends with that one in no time! Once they are together, I will pull the leash. The new found will follow. Once close enough, it would be done!"

All this while he kept talking however my eyes continued to see his leashed monkey hop from one branch to another in joy of new companion. He told me, he was a 'Sapera', (a snake-charmer), by caste and profession. As a proof, he pointed towards his saffron garments which he was sporting beneath the jacket. He said, as per custom it is prohibited for the 'Madaari', (one who makes monkeys act and perform), to wear saffron clothes. Hence, in his own way, he looked down upon the Madaari community, for he belonged to a superior caste!

Then he told me, he is mostly into snakes but sometimes grabs such opportunities to make a quick buck. Once caught, he would sell the monkey to any Madaari for rupees five hundred. Instant Cash!

Such is the Hindu way of life! So diverse a nation, a puzzle, and a mystery!

Lastly, the art of catching animals is no big deal. Love! That is the name of the art. You can lure and tame anyone with love.