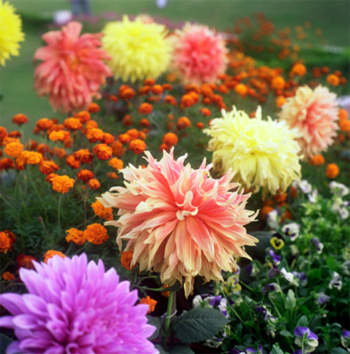 "The golden jasmine, the shephalika, the white jasmine, the jessamine, the navamallika, the amaranth, the spring creeper, and all other flowers have fallen of themselves, are really it makes Indra's heaven dingy. And the pond here looks like the morning twilight, for the lilies and red lotuses are as splendid as the rising sun". That's how the Brahmin wisecrack Maitreya exclaims at the garden of Vasantsena, the courtesan, in Sanskrit play Mricchakatika (The Little Clay Cart) set in Ujjayini (ancient Ujjain). These are some of the native flowers, embellishing and perfuming India, for ages before the Mughal empress Noor Jahan imported rose from Iran.

Kalidasa's Ritu-Samharam (Songs of seasons) describes women adorning their hairs with flowers of Kadamba, Ketaki, Malatai, Yuthika, Bakul and Nilotpal (blue lotus). His Meghdootam (The Cloud Messenger) mentions kutaj, mandara, parijata, champak, santana, pumsi and harichandanam etc. All these flowers still bloom in India's towns and countryside.
Sanskrit literature abounds in description of lotus, an epitome of celestial beauty, which although blooming in the mud catches no muck. Lotus blossoming in deep water tanks makes a fascinating sight. Although synonyms of lotus viz. Jamal, Pankaj, Padmini, Arvind, Nalin(i), Utpal etc are common Hindu first names, and lotus is the national flower of India, its cultivation is limited. Water-abundant Midnapore district in West Bengal is a lotus hub. Perhaps the virtues typified by lotus are in short supply in the world today.
Springtime is the ideal season for efflorescence. The advent of the spring was the floral arrow shot from the bow of Madan or Kamadeva, the Eros (Cupid) of ancient India Hence it was associated with floral blossoms, punch revelry, picnic in parks and falling in love. Few know that ancient India had its equivalent of Valentine Day called Madanotsav (Spring Festival). There is a reference to it in Mricchakatika, where Vasantsena first saw Charudutt. It used to be celebrated in Upavanas (natural parks) on margins of the city.
The advent of spring animates the earth, and reawakens the floral world from its winter slumber. Famous gardens of India bask in florid glories. The sprawling 15-acres of 'Mughal Gardens' of Rashtrapati Bhawan (President's House) hits the headlines. It is thrown open to public for a month between mid-February and mid-March. Blossoms of Bakul, Putranjiva Roxburgi, Cypress, Thuja Orientalis and China Orange trees, rose shrubs and a variety of climbers lend it an evergreen texture. With more than 250 select varieties of roses, it is one of the best rose gardens of the world.
The 'Mughal gardens' might be a handiwork of Edwin Lutyens, the architect who designed New Delhi in early 20th century. But real Mughals were great garden builders who left mark in Delhi, Agra, Lahore, and Kashmir. Emperor Jahangir famously said if there were a paradise upon earth, it was Kashmir. He laid out the Shalimar Bagh (539 m x 182 m), for queen Noor Jahan at the far end of Srinagar's Dal Lake. Nishat Bagh, built by his brother-in-law Asaf Khan, is the most impressive of all Mughal gardens. It has 12 terraces, one each for each zodiac.
"Flower beds on these sunny terraces blaze with colours-roses, lilies, geraniums, asters, gorgeous tall-growing zinnias, and feathery cosmos, pink and white" - C.M. Villiers Stuart describes it in Gardens of the Great Mughals. Chasmashai, the third Mughal garden, was commissioned by Emperor Shah Jahan in 1632.

The meadows of the Valley of Flowers in Uttarakhand, a UNESCO World Heritage Site list, comes alive with amazing range of alpine flowers. Held sacred by people of Garhwal, it was introduced to the world in 1935 by Frank S. Smythe. "Lower where we camped near a moraine, were androsaces, saxifrages, sedums, yellow and red potentillas, geums, geraniums, asters, gentians, to mention but a few plants., and it was impossible to take a step without crushing a flower" Smythe records in his book The Valley of Flowers.
The Brindavan Gardens, in Mysore (Karnataka), is perhaps the best garden in entire South India. Spread over 150 acres, beside KR Sagar Dam, it is open only during the evening, when lights and fountains add to its attraction. The Indian Botanical Gardens, Howrah (near Kolkata) inter alia has of an enormous collection of orchids. The Gulab Bagh (Rose Garden) beside Pichola Lake in Udaipur (Rajasthan) boasts of great varieties of roses rarely found in other parts of India.
---
Image under license with Gettyimages.com