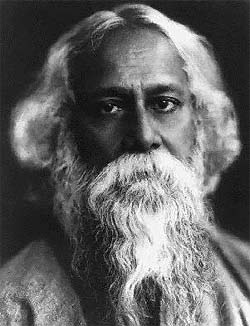 Today is the 150th birth anniversary of Rabindranath Tagore(1861-1941). In 1913 he received the Nobel Prize for literature, the first ever Asian to do so, for his Gitanjali or the Song Offerings – the English renderings done by the poet himself of his103 Bengali lyrics and songs. Today how many of us know what was the real significance of this event at that time? In my childhood when I first came to know about the poet, long after he was dead, I simply thought that the award of this prize made one famous. It also meant a lot of money like winning a lottery. When Tagore was born India was reeling under the yoke of foreign rule. In their arrogance the rulers treated the Indians as an inferior race. The winning of this prize by Tagore therefore signified, first and foremost, the recovery of our self-respect in the cultural field. He did it not for India alone but also for the whole continent of Asia, the major part of which was also under foreign rule. More than seventy years after the poet died in 1941, things have completely changed, India today has completely revolutionized. At long last she has found her rightful place in the assembly of nations. Various historical factors and forces have wrought this revolution, but among the host of exceptional individuals who gave constructive directions to those forces two great souls stand out as pre-eminent – Mahatma Gandhi and Tagore. Gandhi's contribution has no parallel – none else has done as he did in making the history of India. None can mistake it because it is so obvious. But the contribution of Tagore is not so obvious – it is very subtle and deep. He is popularly known chiefly as a poet. But he was much more than that. He was a versatile genius.

For about a decade now Boloji and Bolokids have been publishing Tagore's writings in translation. Now to celebrate his 150th birth anniversary Boloji has introduced this blog page to explore the various aspects of his genius. All are cordially invited to join in this exploration.

Is Tagore outdated today?



At least that is what some young writers in Bengal thought and started a kind of movement during the closing decade of the poet's life. Some of them were students and teachers of English literature who drew heavily on foreign sources not only by imitating but also by stealing from them without acknowledgement. The anguished reply of the ageing poet to these people, in the poem Agantuk written on 11th July, 1932 and included in the collection Parishesh, may serve as a reply to those who may similarly question the poet's relevance not only in literature but also in other fields. But the correct reply to this cannot be found until and unless we explore him as closely as possible. In the meantime here is the poet's reply in my translation.



A Stranger



I have come from a time that is far.

When I came to your time I found

Companions I have none

Along the way

At various disembarkation points

One by one

They must have got down.

Somewhere far behind

I also exhausted the morsels

I received as gifts from life -

Those small habitual comforts,

Things I needed to remain alive.

When I first set my feet on this life's way

In my friendly exchanges with my fellow beings

Through what I said or meant

Through what I actually did

Or what I wanted to do

My right on that time became firmer each day.

I thought

In fun and merriment with others

It was enough to survive somehow –

By my mere presence in the pageant of life

To give some speed to the flow of life

To add to the crowd.

But today in your time

I find I am an alien

I am unknown.

In your speech

The nuances of our words

Have assumed new meanings.

The seasons have changed

In changing whirlwinds

The landscape has changed colours too

Small factious groups, elbowing each other

Derisively smile.

Tastes, hopes and expectations

All that give life its relish

Have themselves lost their taste.

By my presence

Whatever I gave to our times

However little be its value

Bringing men closer in a thread

It gave a shape to that age–

By your mundane measure

Today it doesn't fit.

In my garden do not grow

The modish flowers that are needed

To welcome these passing times.

For the corner of your house now I occupy

I have nothing to pay as its rent.

So in a daring act of giving

I'll have to give you something big.

It will not be something

To satisfy the demands of the present

And if you find

My gift is not to your taste

Leave it for your judgment at a later date.

Yet with what little I have

I want to repay my debt of this life

And leave you indebted.

May I give you to my last

Whatever I have

Beyond my profits and losses

Beyond my joys and sorrows

Without caring

Whether I am abused or praised.

What are his 'gifts'? Are they 'big'? Do you feel in any way 'indebted' to the poet? Or has he really become an 'alien' to us? What do you think? Please let us know.