Devdutt Pattanaik is one of very colourful personalities of India. He is a medical doctor by education, a management consultant by profession and a mythologist by hobby. One of his passions is that of picking anecdotes and lessons from our mythology, Ramayana and Mahabharata mainly, and correlate the same with modern management principles. There are a few TED talks delivered by him and a number of video shows in the internet. He has also authored many books related to Hindu Mythology.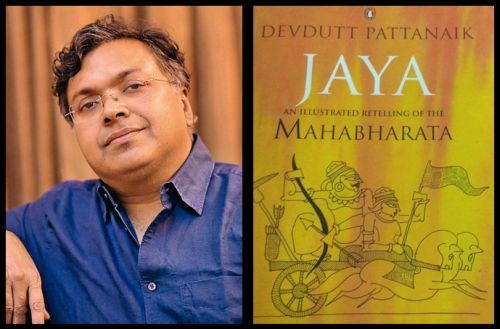 One of the very well written books is JAYA. It is Mahabharata retold. "Jaya" is incidentally the original name of the great epic. The epic, as we all know, is very rich in imagination. It is also equally weird. There are many strange things which happen in this epic. The strange events are summarised by the author by the following twenty points. They appear on the back cover of the book. I am reproducing them verbatim.
"MAHABHARATA is an ancient Hindu epic where:
· A son renounces sex so that his old father can remarry
· A daughter is a prize in an archery contest
· A teacher demands half a kingdom as tuition fees
· A student is turned away because of his caste
· A mother asks her sons to share a wife
· A father curses his son-in-law to be old and impotent
· A husband lets another man make his wife pregnant
· A wife blindfolds herself to share her husband's blindness
· A forest is destroyed for a new city
· A family is divided over inheritance
· A king gambles away his kingdom
· A queen is forced to serve as a maid
· A man is stripped of his manhood for a year
· A woman is publicly disrobed
· A war is fought where all rules are broken
· A shift in sexuality secures victory
· The vanquished go to the paradise
· The victors lose their children
· The earth is bathed in blood
· God is cursed
UNTIL WISDOM PREVAILS"
The 350-page book is very well written with nice illustration by the author himself. It is very rich in information. Highly recommended reading.