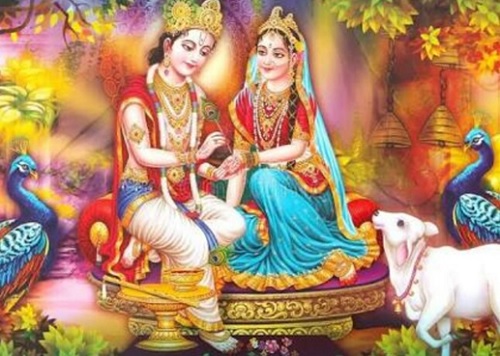 As the heart brims with love, Radha and Krishna lose themselves in the labyrinths of heart. All logic is lost. Radha says that she can longer remain Radha. She will take away the peacock feathers from Krishna's headgear and adorn them on herself. She will take the string of beads from Krishna's neck and wear it herself. She will do all fun and frolic with girls and boys of the area. She is the tomboy. She will not let Krishna wear his favourite yellow colour. She will wear the yellow clothes herself and will roam and wander in the forests just the way he does. She says that she will do all drama and melodrama as Krishna commands her. She will do everything to please him. But she will not take his flute. Why? Because it has touched his lips. She is jealous of that flute. She has the luck to be close to his lips all the time. She is not going to take the flute.

Radha is in full mood of love, passion and joy. She changes her stance and says that she will sing all the ragas on flute dear to Krishna to please him. She says that she will sing to please him. She will perform just for him. She will put her bindi, the traditional red dot on his forehead. And then, she will take his crown and decorate herself with it. She tells Krishna to exchange jewels. He should wear her jewellery and she, his. Then, Radha will take the pot of butter and curd from Krishna. She will have the party of butter, curd and buttermilk with all her friends. She tells Krishna to put the pot of milk on his head and go to Vrindavan with a swinging gait just like the women do. On his way, she will come and take away all goodies just the way he does every day. Then Krishna will feign anger. And she will go and placate him with all love and honeyed words. Aching with love, Radha says, "O Krishna, you become Radha and I want to be known as Krishna."

These two songs by Raskhan and Soor have fascinated me since childhood. Both have been my favourite bhayanak all through my life. I read deeper meaning into these texts now. The first worship is to enjoy the emotion of love, complete surrender and loss of rationality. It is joy. It is the feeling of "let loose". The reader, the listener has to immerse in the joy. One is not required to think. One is required to feel.

The next thought that comes to mind (because we do come to real world!) is that of gender mixing. In the heightened emotion of love, the difference of gender has to merge. The osmosis, the oneness, the mixing is supreme. Indian thought freely, boldly and aesthetically gives expression to the joy of love. There is no inhibition. There is no social censoring. There are no holds barred. The rules have been broken. The lines have been erased. There is no Laxman Rekha. I find it liberating. Man and woman are not polarities. They are one. It is but natural that they will mingle. This is free expression of love.

The next thought is melting of ego. Krishna is not allowed to be macho man at all. All his masculinity has been softened. He is dressed as a woman. Radha is having her heart's desire. She is dressing him up the way she wants. The man is totally disarmed. The woman is the boss in the real sense. She holds the power. The moment belongs to her. At that moment, the world belongs to her.

Then, I cannot help thinking about the power of surrender. "She stoops to conquer." Indian thought has always glorified service, surrender, and wilful loyalty. Selflessness leads to power. When you are nothing, you are everything. Such is the beauty of life. No contemporary lingo, jargon, theory or thought can surpass it.
References:

1. Raskhan. Mor Pakha Sar Upar Rakhiho.
2. Soordas. Shyama Teri bansuri nek bajau.
Comments on this Blog
---
| | | |
| --- | --- | --- |
| | Very nice mam | |
---
Thanks to all for appreciation.
Jyoti, thanks for your concern. We are safe. We are talking about "pure" love here which is beyond intention or motive. In fact, this divine love is our shelter from the cruel world(as you say). We are in the safe zone. God bless...
---
| | | |
| --- | --- | --- |
| | Superb mam this nice creation defined very beautifully love it's truly heart touching very nice mam thank you I'm very big fan of you | |
---
Amazingly fabricated piece of work. Very well elaborated thoughts and emotions of love.
"when you are nothing, you are everything."
---
| | | |
| --- | --- | --- |
| | The poem is a wonderful blend of the mediaeval and the modern, not only reducing gaps between man and woman but fusing into complete image of soulful humanity, a constant appeal for getting lost in love- the craving of every human soul with sensuous imagery. | |
---
| | | |
| --- | --- | --- |
| | Ma'am, you've poured your heart here. So much softness is dangerous in this cruel world. | |
---