A few days back I expressed my views on Nirbhaya saga which culminated in hanging of four convicts on 20th of March. The article first focused on the time line spanning seven years and three months starting from the day of crime. The time line is summarised in the figure below for easy understanding.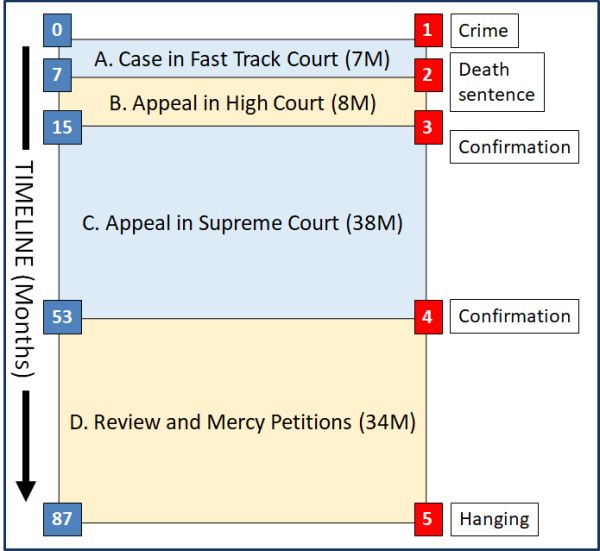 Following the crime there have been four major events and four different action items. The last two paragraphs of the article focused on the action items C and D in the above figure with emphasis on seventy two months consumed by these. This article is written to throw a little more light.
Supreme Court took 38 months to uphold the verdict of High Court. I am not competent to question the reason for what appears to be long duration. But I repeat my comment in the earlier article and state that the Supreme Court could have possibly expedited. The case could possibly have got a little more priority giving due consideration to its sensitivity.
The last action item had to deal with Review and Mercy Petitions. Mercy petitions are answered by the President on the recommendation of the Home Ministry. Possibly the Home Ministry took more time than necessary. An added complexity was that there were four convicts and the lawyer chose to file one petition at a time. The prevailing law is also that all four had to be hanged simultaneously. Exploiting some of the clauses, even the president's decision was challenged. All these amounted to inordinate delay in execution of the death sentences. The actual date of hanging was actually the fourth one set for execution. The first three had to be cancelled due to legal causes. Home Ministry and the Ministry of Law and Justice may, in public interest, review the various clauses of criminal law. The purpose is to reduce the time between Supreme Court verdict and the actual execution.
Finally I wish to state that hangings took place on March 20 because of the urgency shown by the agencies concerned during last several weeks. Widespread public outcry was partly responsible for these swift actions. But more importantly credit goes to the parents of NIRBHAYA, particularly the mother Asha Devi, who made no secret of their displeasure and unhappiness over the delay.
Today all that matters is the NIRBHAYA got justice.