Peter Ferdinand Drucker, the Austria born American management Guru, was born in 1909. He lived a very eventful life spanning 95 years and passed away in 2005. He has been widely heralded as the Father of Modern Management. He taught simple purposeful measures for result oriented management. He was the first to advocate that the principles of management are applicable not just to corporate business establishments but also in service oriented organizations like universities and hospitals. In fact I would go a step further and say that his ideas are equally relevant in our personal and household affairs. He was a three-in-one personality – Speaker, Author and Consultant. During his lifetime he authored thirty nine books.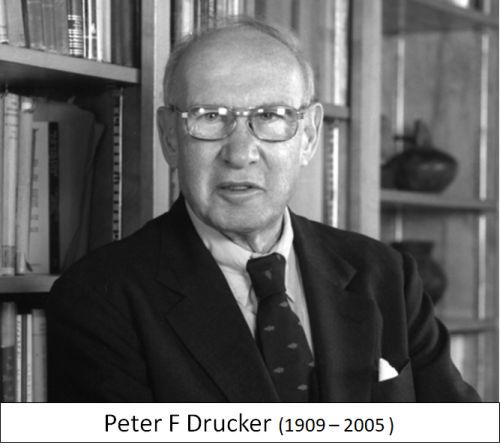 Those who are aware of his works will know that his approach was based on basic common sense. He rarely used jargons. Sometimes I see a parallel between him and great people like Mahatma Gandhi and Martin Luther King. They led from the front. But more importantly, their major contribution was bringing a realization of hard facts (slavery and apartheid) in the minds of people. Drucker just told managers and business leaders how to use common sense.
Drucker focused, among other things, on effectiveness of actions, knowledge, General Management and Innovation. In this article we take a look at his advice concerning effectiveness and efficiency.
According to Drucker "time" is the most important of commodities that go into any project. Top priority needs to be given to time management. He says that only by managing time other things can be managed.
He is very critical of efforts going into wasteful activities. He says "There is nothing quite so useless as doing with great efficiency something that should not, or need not, be done at all". This is one statement which is applicable in all walks of life and at all levels.
Prioritization of activities is very important. In this connection I quote here Drucker's most widely discussed golden words.
"Do the right thing first, the thing right later
Doing the right thing is effectiveness, doing the thing right is efficiency"
Further, he says that the former is leadership and the latter is management. He has written "Management is doing things right—improving operational performance, maximizing revenues, and reducing expenses while increasing artistic production values and audience appreciation. Leadership is doing the right things—setting organizational priorities and allocating human and fiscal resources to fulfil the organization's vision."
Let us say that there is some crisis in an office in Hyderabad. The problem can be addressed by sending a delegation to New Delhi. That is a leadership decision. From effectiveness point of view, a set of people have to go to New Delhi. A manager decides whether those people will travel by air, take a train or travel by road in a car. This will affect the efficiency of the contemplated action.
As another example imagine that you have to prepare a presentation for an important visitor. Drucker would have advised you to prepare a skeleton working presentation to start with. That presentation would contain all the necessary information and is ready to be used. In other words that first presentation is an effective one. Later you can start working on improvements which can be called cosmetic ones. You can add animations, interpose audio and video clips. These are value additions which will enhance the overall worth of the presentation.
There can be more number of examples to bring home the point. There can also be more detailed explanations. But the message is that leaders set broad guidelines in the best interest of the organization. Managers implement them in the most efficient manner. The implication is not that leaders are ignorant of efficiency. The implication is that leaders need to devote more time for taking strategic decisions.
Another related quote is "working on right things is what makes knowledge more effective."
For being effective, if there is one secret, it is concentration. Effective executives do first things first and they do one thing at a time.