The great masterpiece The Fountainhed by Ayn Rand is one of my favourite books. The book did have profound impression on me. To a considerable extent it did change my attitude and outlook. A major lesson I learnt is that man has to pride himself on his achievements. I am quoting here the words spoken in the book by Gail Wynand, one of its principal characters.
"I never feel small when I stand in front of an ocean. Nor looking at the planets. Nor at mountain peaks. Nor at Grand Canyon. Why should I? When I look at the ocean, I feel the greatness of man. I think of man's magnificent capacity that created this ship to conquer all that senseless space. When I look at the mountains I think of tunnels and dynamite. When I look at the palnets I think of airplanes"
The novel was written about eighty years ago. During the eight decades which have gone by, the world has witnessed tremendous scientific and technological progress. It is possible that In today's scenario Gail would have added, for instance, "When I look at the moon I think of NASA and Neil Armstrong".
The above lines are unforgettable for me. It is commonplace for people to speak about the greatness of nature (God) and further to add that man is nothing in comparison. Ayn Rand has a certain amount of contempt for such people. She uses a phrase "vicious bromide" to describe their attitude. Whenever I encounter people making such remarks I give them a piece of my mind and quote Ayn Rand.
Man should never belittle himself. Moreover there is no point in comparing ourselves with nature. In terms of sheer magnitude man can never match nature. Man can never conquer nature in the literal sense of the word. But one should not forget that man has learnt to live in harmony with nature. This is something which no other animal can boast of. More importantly, nature has in no way matched the scientific and engineering achievements of man. God created mighty rivers but man built bridges and dams.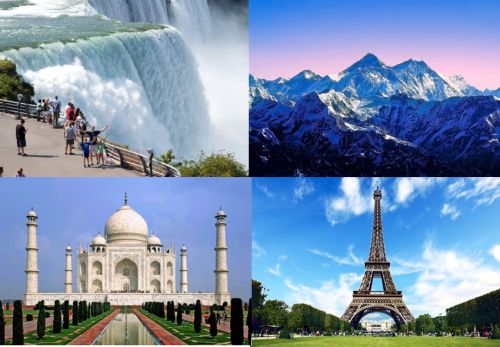 Niagara is great and the Himalayas are great. At the same time let it not be forgotten that the Taj Mahal and the Eiffel Tower are equally great.