World's oldest democracy, the United States of America, is suddenly shaken. The events of 6th January has no precedence in the history of the nation spanning nearly two and a half centuries.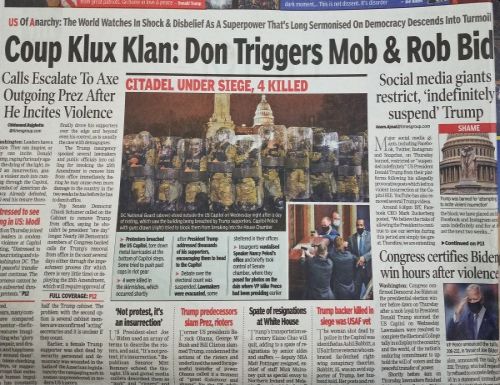 As is to be expected there has been widespread condemnation of the riots from all quarters. The list includes a belated condemnation by the originator Trump himself. One of the remarks caught my attention. That came from the former president Barrack Obama who said "I am shocked but not surprised". I hasten to add that I share this viewpoint. I even feel that it should not surprise anyone who has keenly followed and analysed Donald Trump's behaviour and actions over the last four years.
The reason for my above statement is due to my observation that his actions and words are guided by his own prejudices and wishful thoughts and not by common sense. They also do not reflect the responsibility and accountability associated with his position. Immediately after getting elected he brushed aside the fact that Hillary Clinton got more popular votes than him. After the swearing-in he refused to believe that there was more crowd during Obama's inauguration compared to his.
During the early days of his presidency he promulgated many laws which were set aside by courts of law. One would even doubt whether he was conversant with legal matters and the constitution. One of his ideas has been the wall across Mexican border. Such instances are endless. Perhaps the worst from the people's point of view has been his handling and response to the pandemic. He started making statements that coronavirus is not true and encouraged people not to wear masks and led by example. Very recently he stated that the incidence and fatality statistics are exaggerated. There has been not a single action or spoken word which would assure that the president is discharging his basic responsibility which concerns the welfare and well-being of the citizens.
We all are aware of his response to defeat in the election. He explore all avenues – legal or illegal, constitutional or not – to overturn the popular mandate although he lost by a big margin. All the complaints were baseless because as many as sixty legal challenges were thrown out. He just wanted to cling to power. On the sixth of January that is when the Congress was in session to certify he opted for the only course of action he was left with. The option was that of brute force and hooliganism. He deployed goondas and the rest is history. This climactic action appears to be natural culmination of his actions during the two months which preceded.
As of today Donald Trump has nine days left in the office. There are attempts to get him removed from the position during this interim period. It would be a small symbolic victory. He has done enough damage and, more importantly, set a dangerous precedence.
In hindsight, I can say that President Trump was let loose or given a long rope.