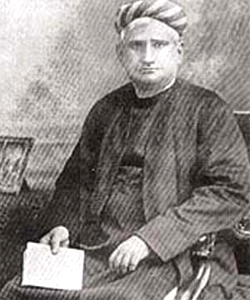 Bankimchandra Chattopadhyay (1838-1894) is known chiefly as a novelist and the author of Vande mataram, the war cry of the freedom fighters, now the national song. But he was much more than that. Unfortunately we do not bother to know the other aspects of the personality of this great man. Here is his hundred-odd pages long essay – Bangadesher krishak (The Peasants of Bengal) - in my translation (the first few paragraphs of the first chapter in full and the rest in summary), which will show one of those aspects - his concern for the poor peasants of our country. Its first part was published in the jaistha/asad 1280 BS (1873-74) issue of Bangadarshan or The View of Bengal, the periodical journal started and edited by him. It needs to be mentioned here that in 1873 a major agrarian riot took place in the district of Pabna when five zamindars purchased the Natore zamindari and attempted to increase the rent. He wrote this essay before the Pabna riot from his first hand knowledge and experience as a Deputy Magistrate. Above all he was a seer.
Bangadesher krishak
The Prosperity of the country
Now-a-days we are very often told that our country is becoming prosperous. As if so long we were going to dogs, now by virtue of good governance of the British government we are becoming civilized. It is increasing our well being.
Can't you see what prosperity? Behold that iron-horse running along the iron-tracks – more powerful than a million horses in a day it is covering a distance which earlier used to take us a month to traverse. [In our country the first railway tracks – from Calcutta to Burdwan - were laid in 1848.] The waves of the Bhagirathi swept away the Oiravat [the elephant of Indra, the king of the gods]; now see those steam boats are riding those very waves playfully and rushing to and fro with loads of merchandise. This morning you hear that your father has fallen gravely ill in the holy city of Kashi (Benares), coming down from the sky the lightning gives you the news and before the night is over you reach there and you nurse him sitting at his feet. With the help of the latest medical knowledge doctors are curing the diseases which were earlier incurable. [The first medical college was established at Calcutta in 1835.] The place which is now full of buildings and is smiling like a star-studded night sky was earlier the den of tigers and other beasts of prey. The broad way now you see there, fifty years ago it was full of mud where you would have either broken your leg slipping in that mud or got killed by the dacoits; now in gas light it is lighted as if by thousand moons. To protect you there is the police man, to take you to places the coaches are waiting by the wayside. And the place where you are sitting now was earlier covered by rotten mattresses, now there are carpets and couches, chandeliers and candelabra, marble and alabaster, - what more should I add? That babu who with the help of a telescope is now observing the satellites of the planet Jupiter, if born fifty years ago would have worshipped that planet as a god with various offerings. And a hundred years ago my miserable self, who is now writing articles for the Bangadarshan, sitting on the floor like a certain kind of beast, would have closely consulted a bundle of rotten handmade paper to see whether gourd should be eaten or not on the ninth day of the lunar fortnight. Isn't our country progressing? Yes it is doing so very much – let us all cheer for it!
Among so much well being around I have one question to ask – whose well being? Hasim Sheikh and Rama Koibarta under the mid-day sun, with bare head and bare feet, in knee-deep mud with two bullocks of only skin and bone and a blunt borrowed plough are ploughing – is it their well being? The scorching sun is mercilessly beating down on their heads; they are half dead in thirst to quench which they are drinking the muddy water from the field; they are terribly hungry but cannot go home to take their meals, it is now peak planting time. Going home in the evening only with some salt and chilli they will eat half the rice they need – the worst quality of rice - on a broken earthen plate. Then they will lie down at one end of the cow shed never bothering about the mosquitoes. Next morning again they will go to plough in that knee-deep mud – on their way either the zamindar or the mahajan (money lender) will pick them up for unpaid loan and keep them waiting all day long – they will not be able to work. Or the zamindar will snatch away his land at the planting time – what will he do that year? He will starve – he will starve with his family. My bespectacled babu, will you tell me what good has been shared by these people? You have received education and what good have you done to them? [The first university was established at Calcutta in 1857.] And you the great Englishman! With a pen in one hand scratching your moustache with the other, you are planning to improve upon the divine dispensation – will you tell me what good has flowed to Hasim Sheikh and Rama Koibarta from you?
I say, nothing, not even an iota. If that be so then I won't join you in the cheering. The well being of the country? But whose well being is the country's well being? I see there is my well being, but are we the country? Among our countrymen how many are we? And how many are these peasants? If they are left out how many remain? In fact they are the country; these peasants are in the majority. What can we do without them? If there is a rising of all these peasants, where will others stand? Where there is no well being of these people there cannot be any well being of the country.
That our country has prospered, this we admit. In this essay, with the help of an example, we shall first show how our country is prospering. Thereafter we shall show, our peasants have not shared that prosperity. In conclusion we shall show who is responsible for this.
[Before proceeding further we have a cryptic comment to make – we seem to see the shadows of the Maoists and the haunting image of that tribal girl of the Jungle mahal shot down by our brave jawans and her dead body carried like the carcass of a cattle tied to a bamboo pole. And we would ask our readers to answer one question – has this essay lost its relevance?]
Comments on this Blog
---
| | | |
| --- | --- | --- |
| | After I saw that picture of the tribal girl in the newspaper for a few days I could not sleep. After the achievement of independence Gandhiji wanted to disband the Congress party and he was left by his followers alone to pray, nay, he was killed. In a democratic society his most favourite follower established a ruling dynasty. Others followed suit. They have forgotten what Gandhiji dreamt. We adopted Vande mataram as our national song, otherwise we forgot everything else that Bankimchandra told. Nobody reads his essays where he talked about the poor and the establishment of an egalitarian society. Rabindranath sacrificed his everything for his country and his people. Now look at that institution, the first of its kind in the world! His Nobel medal we have stolen and CBI simply did nothing to catch the thieves. And mind it, the PM of our country himself is the chancellor of Viswabharati which has become a den of vandals. Dear Dipankar, the way we are dealing with the so-called maoists - I just don't understand - have we gone mad! The famous movie The Deer Hunter ends with the song - God bless America! So we should say - God bless India! | |
---
| | | |
| --- | --- | --- |
| | As I was reading this piece, I kept on asking myself exactly the same question with which you have ended the post. Has anything changed at all? I am afraid that the answer is a solid NO. Each and every politician keeps accusing each and every other politician that the people have been neglected. Unfortunately, I don't think that they care anymore for the people than the Britishers did. They are merely after political power. The British had fleeced us and enriched their own country. To that extent, they had served the cause of their own country. For us alas, people who are going hoarse crying about the infinite pain of the poor are engaged in increasing their salaries in the Parliament. I feel that there should be a rule that each parliamentarian or member of legislative assemblies has to live continuously for one year in the same state of abject poverty in which the god forsaken people of our country live in remote villages. No helicopters, no cars, no administrative staff, no nothing to be provided to them. Let them try and find out who it is that they are trying to uplift. This essay has great relevance. | |
---