I loved Bicycle Thieves because of the little boy "Bruno". The first time I saw the movie, I didn't pay much attention to him, other than noticing he added a wonderful touch of innocence and sweetness to the despair that unfolds in the course of the movie. But when I re-watched it, I paid attention to his little innocuous actions that added another dimension to the all-time classic.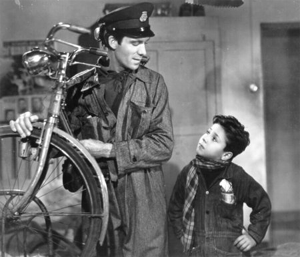 He fastidiously cleans and shines his father's cycle. Not because it was a chore to be done, but because he loves his dad and takes pride in helping his dad in whatever manner he can. This becomes the recurrent theme of the movie. At every step he extends his little hand, whether it is to pay the fortune teller, or to inspect the stolen bicycle parts in the second-hand bicycle market, or to pick up his father's cap when the crowd roughens up his father for stealing the bicycle. And of course in the last scene, it is his small hand, slipping into his father's that brings about the final cathartic release.
 
Bruno is a little adult. While cleaning his father's cycle in the early morning light, he opens the window so that he can see a little better. When leaving for work he remembers to close the window so that his little baby brother doesn't catch a cold. Antonio is so distraught that he barely notices if his son was accompanying him as he crisscrosses Rome trying to catch the bicycle thief. Bruno, though just nine, appears quite capable of looking after himself. Though he does get indignant when his father does not even notice that he had slipped and fallen in the rain. He picks himself up, brushes himself clean and rushes to take shelter from the rain. And only when Antonio asks him what had happened, he bursts out – hadn't he seen, he had slipped and fallen!
Or the scene in which the poor boy pauses for a second to relieve himself at a street corner and even as he unzips his pants, his father shouts out to him – he had just seen the old man slipping away, and they must chase him! Bruno is grown-up enough to control his desperate need to answer the call of nature, but the start with which he jumps up when his father calls out to him is so completely childlike!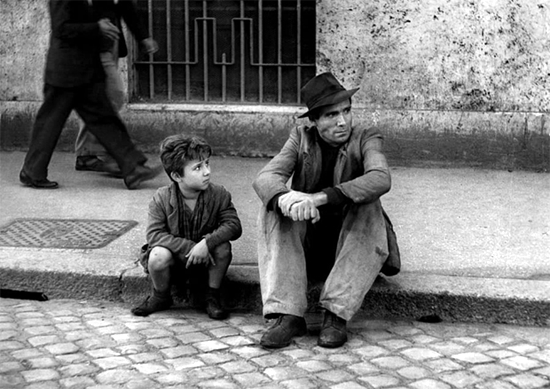 When a crowd gathers around his father in the red-light area, it is Bruno who slips away to get a police man. At the restaurant he quickly calculates how much his father could have made had the cycle not been stolen. He chides his father for allowing the old man, the thief's accomplice to get away. It had been Bruno who had spotted the old man in the first place. His despairing, irate father slaps him for rubbing salt on his wound! And the little adult in Bruno crumbles before our eyes. His lips tremble, his eyes fill with tears and in a voice choked with hurt, he says "I will tell Mamma" (that you slapped me). He is then just a little eight or nine year old boy, tired, hurt, angry and petulant.
 
The high point of the film is the father-son "treat" at the restaurant. When Antonio asks his son if he'd like a pizza, his entire face lights up. But then the restaurant does not serve pizza, so they order mozzarella and bread instead. It is such fun to watch Bruno relishing every bite of the mozzarella, pulling the cheese into long spaghetti –like strings, playing with it, making it last a little longer. Of course their joy is short-lived. Bruno sees a boy sitting at the next table (with a ridiculously coiffed hairstyle) enjoying a meal of pasta. His father notices his wistful glance and brusquely pricks his short lived moment of utter joy, by saying to eat like that one would need to earn at least a million lire! Poor Bruno can barely finish his bread after that!
 
There aren't too many instances in which Bruno is allowed to be just a little boy. But when they occur, they are delightful. Such as when Bruno searches for the old man in the church and pulls aside a curtain to reveal another old churchgoer peacefully sleeping through the service. The old man is not at all pleased being woken up and whacks Bruno. Bruno's startled expression is a spark that seems to light up the grim desperate chase.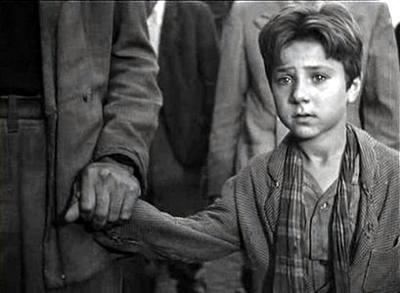 Bruno had been his father's little guardian angel throughout the entire ordeal of trying to get back their stolen bicycle. And had we still not realized the reversal of roles, the film's closing scenes establishes quite clearly who is looking after whom. It is because of Bruno that the crowd decides not to press charges against Antonio. When Antonio breaks down, crying in humiliation and hopelessness, Bruno slips his small hands into his father's, reassuring him that he hadn't fallen in his eyes. Antonio gets his redemption through his son's loving forgiveness.

Motif of bicycles
 
Besides Bruno's role in the movie, another aspect of Bicycle Thieves that I really enjoyed was the motif of bicycles throughout the movie.
 
On Antonio's first day at work, before his bicycle gets stolen, the day starts on such a hopeful note! There is a beautiful shot of workers on bicycles riding off to work. Their movements look like a well orchestrated symphony. A little later when the men who put up film posters get to work, there is a shot of all of them on their bicycles, with ladders under one arm, going off in different directions. The image seems to convey, work is fun; there is a fluidity in their movements that makes the bicyclists appear like dancers in a choreographed sequence. One of the most poetic scenes in the film is the rain sequence (just before Antonio spots the thief). It's Sunday (so informs the truck driver who gives Antonio and his son a lift in his vehicle) and it always rains on Sundays! As Antonio and Bruno take cover from the rain, the street seems to fill with cyclists, converging from all directions, hunched up on their bicycles, speeding away from the rain.
 
The climax of the film is another bicycle sequence. A football game gets over and the spectators pour out of the stadium, and onto the street, on their bicycles. To Antonio, the hordes of bicycles streaming before his eyes were like manna from heaven, except that in his case, it was more like the Devil's temptation. It is almost a foregone conclusion that Antonio will not be able to resist so great a temptation. The pacing of the bicycle sequence, with some cyclists riding furiously fast, others sauntering away happily, builds up the climax so skillfully.
 
I was amazed to learn later that the entire cast comprised mostly of non-actors and that the little boy Bruno had been literally picked up from the streets. Yet another reason to heartily applaud Enzo Staiola, the seven year old boy who played Bruno.

Credits
Director: Vittorio De Sica
Writers: Luigi Bartolini (novel), Cesare Zavattini
Stars: Lamberto Maggiorani, Enzo Staiola and Lianella Carell