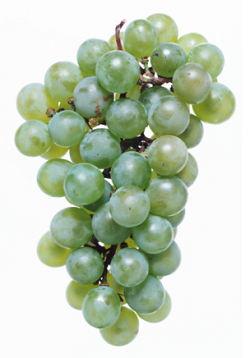 Grapes have anti ageing properties and plent of nutrients. Grapes also help in expelling body toxins and relieving constipation. These properties of grapes help to keep the skin healthy with young looks.
Do not use any fruits as face pack if you are allergic to them.
For wrinkles:
Cut fresh ripe green grapes or red grapes into two halves and rub them gently on wrinkles in circular motion. Take care not to rub it on eyes. Wash it off after 15 minutes. The anti ageing property of grapes helps to slowdown ageing process of skin.
Grape Facial Scrub:
Mash 1/2 cup o fresh ripe white grapes and remove its skin. Mix almond powder to this pulp and use it as a scrub. This helps to remove dirt and oil.
Grape Cleansing pack:
Mash 1/2 cup of seedless white grapes with 1 tea spoon of organic honey. Apply this on face and leave it for 12-13 minutes. Wash it off with cold water. This pack helps to cleanse the skin from inside.
To relieve constipation:
Eat around 20 to 25 ripe purple grapes daily at night. This helps to relieve constipation
(Persons who are diabetic and obese should consul family physician or dietician before consuming grapes internally)