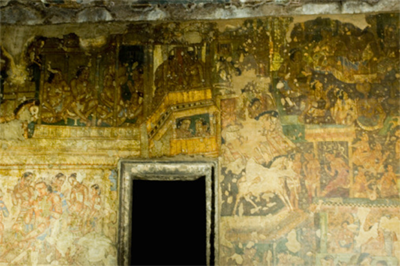 Some time back I read a newspaper reporting on the total neglect by the government and public in restoring the age old murals in temples and other places. It obviously made a depressing reading. With all the advances in science and art, we couldn't do much even to restore the murals which have been created centuries ago. The reasons are obvious. The present day world looks at everything with a monetary motive and benefits. So, there is hardly any space for arts subjects. Even essential subjects for any nation's growth like Economics and Political Sciences have taken back seats to give room for thousands of mindless engineering colleges.
So arts have no place in anyone's life; even an expert artist in India would never prefer his son or daughter to take up the profession of art even if they have expertise in it because it has no value today. Further, with the induction of computers in every field, free hand expressions either in the way of writing or art work are slowly going into oblivion. So who will do the laborious mural painting with hands for hours together for some paltry sum which will be given by the state government based on the lowest quotation?
Recently in Chennai, the government all of a sudden engaged artists to paint the walls of the arterial road of Chennai with paintings and murals depicting the Tamil and Indian culture. Unfortunately, they never thought about the quality of paints and colors being used. So with in a month of these artworks done, there was heavy rain and all the works of these artists were simply washed away and went into the drains. Can we call it an original idea worth appreciating?
Artworks are hardly found in any drawing rooms of the common men homes. Rather they prefer to display their own faces and their families than providing space for the creativity of any artist. Even the children are taught from their childhood only to study for making more money, go abroad and settle. Art pursuits are rarely encouraged by the parents and friends.
Many of the ancient temples and their architectural beauty were left uncared and were in pathetic status. Temples and deities also favored by the public only if they are capable of satisfying the worldly comforts and boons for the population. Tirupati Lord Venkatachalapathy may get a crown or ornament and gold weighing more than a ton. But some of the temples even hardly get the funds to maintain them leave alone adorning the god or goddess with jewels and silks.
Less said the better about the politics intervening in the maintenance of ancient temples. Even our own population is interested only in constructing new temples in every nook and corner or some vantage places more for 'publicity' than 'bakthi'; one can hardly expect any savior to resurrect the old murals or temples.
Well, India is always good in waxing eloquent about their cultural heritage. But that does not mean they need to preserve them carefully. It is just another artifice to attract the attention of the world media and the public.

Image of Mural on the wall of a cave, Ajanta, Maharashtra, India under license by Gettyimages.com