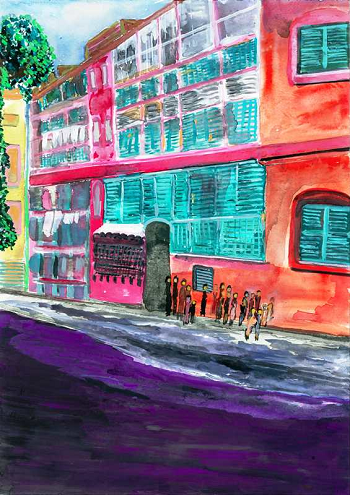 Kolkata is the hub of music, all sorts of music and that includes English music. I remember during the JS days, festivals organised by the Statesman Group had such groups as Frustrations Amalgamated, Forbidden Fruit and the Savages playing to packed audiences, those were obviously the seventies of Kolkata.
I also remember Braz Gonsalves and Pam Crain at the Park Hotel and Phonida playing his guitar at his restaurant in the New Market.
I do meet Phoni da whenever I am in Kolkata, to everybody else he is Phoni Babu
The Nineteen Nineties brought with a big bang a popular singer who took the Kolkata music scene by storm. His name is Anjan Dutt. With simple lyrics, he gave the people of Kolkata and elsewhere a folk music which is enriched with visions of day to day life in Kolkata. A product of St. Pauls' Darjeeling, he did his Masters in English Literature at the University of Calcutta.
I caught up with him by his memorable number, Bela Bose
Bow Barracks is a film on the Anglo-Indian community of Kolkata and is directed by Anjan Dutt.
Bow Barracks Forever is a song written and sung by Anjan Dutt
It has the husky Bob Dylan feel
Dance through the Night is sung by Dibyandu
Life and streets of Calcutta as I had experienced at one time comes back to me. It has a Spanish base
I just can help dancing with it
Home is sung by Dominique. He has always been a backup vocalist.
Teri Meri Merry Christmas is written by Usha Uthup and Neel Dutt. This has a jazz background and reminds me of Kolkata during Christmas days.
The last two themes, The Bright Young Love ( guitar) and the Lost Glory ( saxophone) are composed by Anjan Dutt and Neel Dutt
Pritish Nandy is known the world over for his poetry; he had suggested once to Kishore Kumar that he should try singing in English to lyrics that he would compose.
Bow Barracks Forever is a film that has created a special place in the annals of Filmmaking in India. The ovation should go to Pritish Nandy.
Watercolor by Author

Cast: Lilette Dubey, Neha Dubey, Moon Moon Sen, Sabyasachi Chakravarthy, Usha Uthup, Renu Roy, Arindam Sil, Victor Banerjee, Roopa Ganguly, Clayton Rodgers
Director: Anjan Dutt
Producer: Pritish Nandy, Rangita Pritish Nandy
Music Director: Neel Dutt
Lyricist: Anjan Dutt, Neel Dutt
Singers: Anjan Dutt, Dibyendu, Dominique, Shaan, Usha Uthup, Neel Dutt