Continued from Previous Page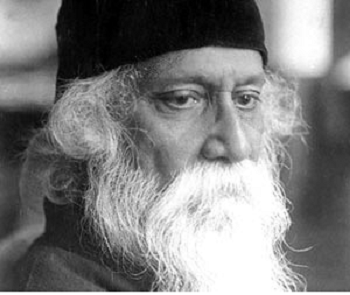 According to Tagore's biographer Krishna Kripalani, "William Rothenstein (1872-1945) was the bridge that helped Tagore to cross over from his little world of Bengal to the big world of the West." We have seen that their acquaintance was a sheer accident and it took place when Rothenstein visited the house of the Tagores in January, 1911 and saw the poet there for the first time in his life. Before that he didn't even hear about him. It is therefore interesting to know how it happened.
Who was this Rothenstein? We have already noted that he was an English artist of German-Jewish origin. After leaving school at the age of sixteen Rothenstein studied art first in London and then in Paris. He shortly made a name as an artist and became intimately associated with the world of art and letters. Between 1902 and 1912 he lived in Hampstead. Many writers also became his friends. They included such names as H.G. Wells, Max Beerbohm and Joseph Conrad. In London he co-founded the Carfax Gallery where works of contemporary artists were exhibited. It also exhibited the works of Auguste Rodin whose growing reputation in England owed much to Rothenstein's friendship and missionary zeal. Thus he was not only an artist but also an art enthusiast. He had developed an interest in Indian art too. Hence he must have come in contact with another enthusiast of Indian art, Ernest Binfield Havell (1861 –1934), who was an influential English arts administrator, art historian and author of numerous books on Indian art and architecture. A member of the reputed Havell family (originally French from Normandy) of artists and art educators he studied arts in the School of Design, South Kensington, which later became the Royal College of Art, London. This gentleman had gone to India where he first served the Madras School of Art as Superintendent for a decade from 1884. In 1896 he went to Calcutta and joined the Government Art School as its Superintendent. This school was initially set up in 1854 for the promotion of Industrial Art with representation of both Europeans and Indians. The first step he took as superintendent here was to abolish the British system of teaching. He maintained that 'in India, painting must be Indian in attitude and spirit.' Havell included Oriental art in the curriculum, which, according to him, should be the basis of all art instructions in India. In his opinion, Indian sculptures, which are highly original and creative, could be ranked with the noblest creations of the West.
Like other progressive movements of the time the Tagore family, especially through its two members, Abanindranath and Gaganendranath, was also closely associated with this school. Havell worked with Abanindranath to reform Indian art education. They established the Bengal school of art, which sought to adapt British art education in India by rejecting the previous emphasis placed on European traditions and reviving the native Indian styles of art, in particular the Mughal and Rajput miniature traditions. In 1906 Havell left for England on long leave and never returned.
On 13th January, 1910, in the Indian branch of the Royal Society of Arts, London, Havell delivered a lecture on 'Art Administration in India'. Rothenstein was present in that meeting. When George Birdwood, who chaired that meeting, remarked that in India there was nothing called 'fine arts' Rothenstein not only vehemently protested but also sent a letter to the Times where it was published on 28th February. Moreover, he advanced a proposal which was published in the same paper on 11th June, 1910, to set up a society 'to promote the study and appreciation of Indian culture in its aesthetic aspects, believing that in Indian sculpture, architecture and painting as well as in Indian literature and music there is a vast unexplored field, the investigation of which will bring about a better understanding of Indian ideals and aspirations, both in this country and in India.'


On 15th June in a meeting of some prominent people under his chairmanship in Clifford's Inn the India Society was formally set up with the reputed Pali scholar T.W. Rhys Davids (1843-1922), T.W. Rolleston (1857-1920) and Arthur Strangways (1859-1948) as its Chairman, Treasurer and Secretary respectively. By April, 1911, its membership in England, India and America reached 193.
To gather first hand knowledge of Indian art and architecture in November, 1910, Rothenstein went on a tour of India and visited its major religious and artistic sites. It began with a visit to the ancient Buddhist caves at Ajanta where he observed Lady Christiana Herringham and Nandalal Bose of Santiniketan making watercolor copies of the ancient frescoes. His itinerary included a visit to Calcutta also, most probably at the suggestion of Havell who must have briefed him about the Tagores and their considerable private collection. Charmed by the sceneries of the banks of the Ganges at Benares he however abandoned the idea of his visit to Calcutta and requested Abanindranath instead to meet him at Benares with his students. Expressing his inconvenience in his letter of 16th December, Abanindranath invited Rothenstein to Calcutta where he would be able to show him 'collections of old Indian pictures and bronzes which are unique in India.' Attracted by this collection and the reputation of the Tagore brothers many Europeans of Calcutta used to visit the house of the Tagores quite frequently. [Lt Governor Carmichael, a connoisseur of Indian art, was a close friend of these two Tagores. Once Lt Governor Lord Reading came with the Secretary of State for India, Edwin Montegu, who was so overwhelmed by Abanindranath's famous painting – 'The Death of Shah Jahan' – that he wanted it for himself. As family property it could not be parted with. Abanindranath made a copy of that painting for Montegu – the only instance when the artist did copy his own work.] At this time two Calcutta High court judges – Sir John Woodroffe and Sir Harry Stephen were spending their Christmas recess at Benares. On their invitation Rothenstein came to Calcutta and stayed at Sir Stephen's Camac street residence. Later in his autobiography he was to write, 'Should I not have stayed awhile longer to continue my painting and given up my plan of going to Calcutta, Darjeeling and Puri? Had I done so, I should never have met (Rabindranath) Tagore.'
He paid several visits to Jorasanko and was charmed by the art collection. But he was more charmed by Rabindranath. 'I was attracted, each time I went to Jorasanko, by their uncle, a strikingly handsome figure, dressed in a white dhoti and chadar, who sat silently as we talked. I felt an immediate attraction and asked whether I might draw him, for I discerned an inner charm as well as great physical beauty, which I tried to set down with my pencil.' While in Calcutta he must have made enquiries about the poet and read some of his writings in translation published in the Modern Review. He was to complain later in his autobiography, 'That this uncle was one of the remarkable men of his time no one gave me a hint. Sir John Woodroffe, who, with Sir Harry Stephen visited me at Benares, knew the Tagores well; it puzzles me that he told me nothing about Rabindranath, for we discussed both Abanindranath and Gaganendranath.' When Rothenstein was at Darjeeling Abanindranath requested him in two letters of 14th and 15th February to visit Santiniketan. The famous art critic Coomerswami also wrote him in his letter of 17th February, 'It is peculiarly attractive to know Rabindranath in his own world.' He also received a telegram from Rabindranath 'asking me to join him at Bolpur; but my passage was booked, and I must reluctantly refuse.' He further wrote in his letter of 21 February to Rabindranath, 'I had a desperate hope that I should be able to catch the mid-day train yesterday but failed to do so.' Next day he left for Bombay to catch the ship.
Before we relate in our next blog what happened after this we want to mention here that a modern Bengali writer who is reported to aspire for the Nobel Prize has a good collection of bottles and he earns money by advertising mustard oil! We hear that there are several other aspirants in modern day India but we refrain from commenting on these august personalities.

Previous Page