Excerpts from Tagore's Letters & Diaries.
On voyage to Japan, on board Tosamaru- May, 1917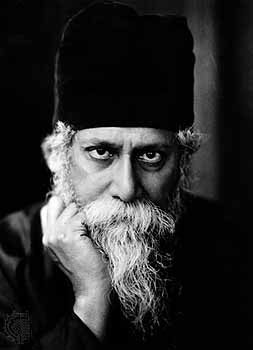 In the animal world, competence of man does not lie in his physical excesses. Man's skin is soft, his muscles feeble and the power of his senses too falls short of the animals'. Yet, he has acquired such a strength which is not visible, not occupant of space, not based on a mass of soil, yet it is omnipotent all over the Earth. Man's strength has dodged the boundary of his physique and has become powerful invisibility. Bible says, he who is modest will conquer the world. This means, strength of modesty is not external, but it is internal, less it hits more victorious it is. It does not fight in a battlefield, but earns its victory by accord with the powers in the world.
The demon of Commerce too must one day be humanistic by restraining its demonic havoc. This Commerce has little brain and no heart, so it is only increasing its burden on earth. It is aiming victory by extending its occupied area with its deadly resolve. But that which will be victorious one day, is humble in size with its simple procedures, that accepts Man's heart, his aesthetics and religiosity. It is modest and not shamelessly greedy. Its stability is in its inner order, not in its external size, not by depriving others but by its harmony with all. Of all the human razzmatazz this Commerce is the ugliest. It has brought fatigue on Earth by its own weight, deafened it by its noise, blighted the Earth by its garbage, and wounded life by its greed. Coronation of this greed on the world's throne and endorsing our slavery to this worldwide ugliness, this revolt against all beauty, aesthetics and human heart, is daily lashing the noblest human undoubtedly. This chess game, mad about 'profit', with man as its pawn, will continue how long? This game must be aborted – where in greed of 'profit' man is losing himself continuously.

Originally published in the Bulletin (May 2010) of the Ramakrishna Mission Institute of Culture.
Translation by the author.

References and Source
The January-June 2003 issue of "Shrayan" a compilation from Tagore's letters and diaries. by the editor of the magazine Mr. Pathik Basu.