Excerpts from Tagore's Letters & Diaries.
Letter to Rani Mahalnobis
while on the way to Java – Sept 1927
Dear Rani,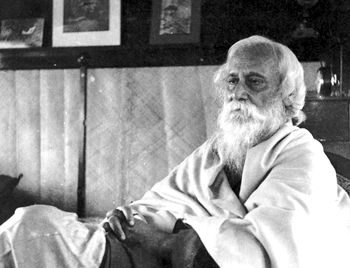 Our ship will go round two isles, so two days' journey will elongate to three. Here Viswakarma's (god of Engineering) holed bags have let out soil to scatter over the sea to form many an isle. Those are under Dutch command. The isle where our ship is anchored now, is known as Biliton. Population is sparse. There are tin quarries manned by their managers and labourers. It is a wonder how they are milking the entire earth. Once upon a time these people sailed off in swarms into the unknown seas. They had went round the earth to be familiar with it, to measure it. That history of familiarization is long and hazardous. I ponder, when they had first lowered their sail here at these coasts, far away from their homes, how full were those days of apprehension and expectation as well. The greenery, animals, humans here were all strange to them. But to-day, everything is known and vanquished!

They have defeated us, why, I ponder. The main reason is, we are static they are dynamic. So they could go round easily and that is why they have known and their appetite for knowledge has been further whetted. That appetite is feeble among us because of our stagnation. Even our knowledge about our neighbors is vague neither we have urge to know them better. Because, our home encloses us too much. Those, whose vigour for knowledge is low, so is that for their survival. With the same vitality that enabled them to earn all rights over Java, is the dedication of their archeologists to explore this island. Yet, like this island, its archeology too was totally alien to them.

We are indifferent about knowledge of our neighborhood while their urge to know the distant is limitless. Not only by muscle, but by vitality of their quest they are conquering the ins and outs of this world. But, we are domestic intimately. This means, we are mere components of our family, trapped in a thousand bondages. Our responsibility for a livelihood is entangled with that for the rituals, the redundant load of which has almost crippled our genuine duties. From caste related obligations up to the funeral rites, all the duties have burdened us throughout our mortal and post-mortem phases, have made our movement impossible and is only siphoning out our vitality. The offspring of such homes are bound to be lashed by others, which we are feeling inwardly.
…..But, if it is easy to demolish age-old orders, how long it will take to build the foundation for the new ones? About duty and non-duty, each society has habituated itself to certain principles, based on which the populace keeps going. By argument and logic only few can keep righteous. But it is not easy to replace one habituation by another. All our habituations are for cohesion of the myriad inane in our family life. It is easy to learn from Europeans their science, but not their social habituations.

Originally published in the Bulletin (May 2010) of the Ramakrishna Mission Institute of Culture.
Translation by the author.

References and Source
The January-June 2003 issue of "Shrayan" a compilation from Tagore's letters and diaries. by the editor of the magazine Mr. Pathik Basu.