Excerpts from Tagore's Letters & Diaries.
To Sudhindranath Dutta, from Santiniketan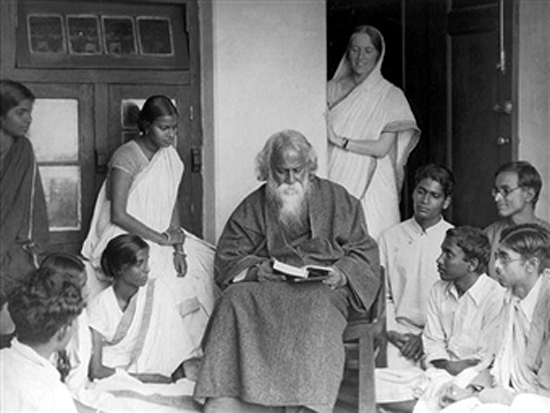 Values are of three types. One is for marketplace, the second for religion and the third for aesthetics, being purely personal. From the last intellect is not banished, but it is secondary. Here the main architect is the person building the image, who can observe form and shape it.. Form does not merely mean that which has area, weight and outline. Here, form attaches some aesthetics which provokes unnecessary interest. Unnecessary because, this interest is the ultimate goal without any more 'why' and 'what'. In this world a 'person' is that type, his/her reality is my very own and no other verbiage is above it. My curiosity about a 'person' is entirely naïve – beyond question and last answer to all questions.
So I say, creation of form is art- through which with inane inquest I perceive the form of a good song, in rotation of music and rhyme it casts such a spell which from my heart I feel as truth; but don't feel this 'wall' as such. What provokes this perception of truth is that form which has various components, the main being 'emotion'. Because, through 'emotion' our consciousness knows 'self' deeply. Even 'immaculate perception' as propounded by the yogis is one of Anandam (divine joy), or an emotion to say. 'Thoughts' also may be component for creation for art, but not to transcend one to truth. But, the thoughts may be so arranged that will generate a nuance beyond 'arguments' into an aesthetic, to give us Anandam without reason, else those would be rabid elephants in a lotus garden.
Words and sentences convey literature. In words there is sound and meaning, both needed in literature, but not for the sole purpose of 'information'. 'Information' will of course be there, but as a subordinate. If it gives a picture and aesthetics, then only it helps create an art. The word 'empathy' does not offer any music, picture or aesthetic. But somehow the word 'compassion' is accepted. Yet, on intellectual judgment 'empathy' is appropriate, accurate and explicit i.e. to be one with others to feel alike with them, which definition goes with the word. Yet, it did not work, as it has explanation but no form. Form embraces a 'totality' beyond analysis and does not lob in your mind in isolation.
If you want to build literature placing the intellectual bricks one upon another, each brick cannot contribute there more than its own quantity. But in a tree with life, each segment is superseding itself, possessing a charm which at once manifests the totality. In a literary work, if every word possesses such 'form', then the totality is available in each segments. This is called creation.
Originally published in the Bulletin (May 2010) of the Ramakrishna Mission Institute of Culture.
Translation by the author.
References and Source
The January-June 2003 issue of "Shrayan" a compilation from Tagore's letters and diaries. by the editor of the magazine Mr. Pathik Basu.