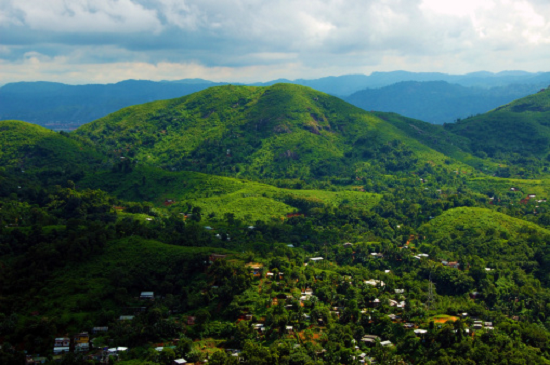 The rains are here once again. I go to these rains with almost a mystical awareness, to pull together life's realities, and to banish the word Monsoons. The rains are like the seasons, they come in a cycle, they even break cycles, they vanish into ether, they shower down in torrents. When they are there we curse, when they are not, we curse.

No rains, this year we moan, the Barapani lake is receding, electricity will be in short supply. But the rains are the charisma, the wrath, the unflappable temperament of the whimsical weather gods.

The rains here in Shillong take me back to an almost mythic past. It would rain continuously for over two to three weeks incessantly during my childhood. There would be no games in the evenings, the fields would be sloshed, muddy and swampy. They wore a dessicated look. Their exterior and interior reflected our thoughts - sad, sad that there would be no games, no cricket on Sundays. We lay bolstered in the corridors of time, simply hoping that one fine day the madness would abate, and the weather gods would give us the much needed respite. The sun would peep through dark covers shadowing the misty hills of Shillong.

Now for two decades or so the rains are not like that of yester years. They come and go in terminable bouts. At the most they may last for three to four days, but they bring a reprieve from the thralldom of dry weather. The rain washed hills look askance.

This year the rains bring memories of those days with the ubiquitous gum boots and rain coats, when we chased our dreams in the corridors of the school. The rains are a motif of past, present and future. Without any hyperbole they narrate a story of my town's days, when during its ferocity we would run around in the clammy corridors in school, with a burst of energy. Thunder claps went unheeded. Shillong's hills were washed with beauty, and shadows fell. So did the rains- rain claps one, two, three. And now in the present as I see these rains, memories of childhood sear.

Oh rains, you are a mercy, a prayer. When will this hiatus of the past break? I know you can create havoc, but we are at your mercy. We draw chimeras of the rains. They are in our body, soul and spirit. They give a kind of inexplicable love and peace which the finer sense of language cannot grasp with immediacy.