Excerpts from Tagore's Letters & Diaries.
On way to Japan 1916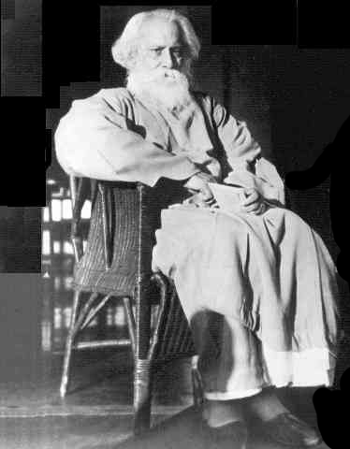 When I am in my community, I am afraid of leisure. Because, the community is a compact body. Any gap therein is a loophole. To fill that up we must have drinks, cards, chess and throw our weight about, else the time does not pass. That is, we don't want the time but want to expel it.
But leisure is the throne of the Great. The Universe situates in endless leisure. Where Great exists, leisure is not porous there, but is packed fully and is deeply beauteous. Wherever the Great is missing, leisure is vacuous. The inhibition an unclad feels, so does one with leisure, that it is a vacuum, which we call inert laze. But for a true austere there is no scope for inhibition as his leisure is entirety, where there is no nudity.
It may be explained by an analogy of an essay and a song. In the former, wherever you pause you face vacuum. But in a song the pauses are full of music. In fact, more the music elongates, more leisurely are the words. The satiety of a singer lies in the gaps between his words, and that of a writer in swarming those.
We men of the society now on a voyage, for sometime have been able to turn our face towards the Universe. From the façade of Creation where there is scramble of many we have turned to the seat of One, to feel that this enormous leisure of the blue sky and sea is a pitcher of condensed Amritam (Immortality), which is full akin to the white light, a culmination of the myriad hues, so is this nectar of Immortality culminating many a mundane delicacy. So, to understand the truth of these multiples you have to understand that of Unity. Man has to bear the burden of the branch cut off a tree, but that remaining in the tree can itself take care of man. The 'many' severed from One are man's burden, but those integral with One can give full shelter to man.
On one side this world is crowded with utilities and on the other with superfluity. The burden of the former we must bear and no dissent there stands, just as we must have the walls of our room. But all is not wall, there are windows here and there with which we maintain our intimacy with the sky. But, I find people among us who cannot stand those windows even. To seal those up they create non-issues like trash work, letters, meetings, lectures, exasperation et al. And this trash mushrooms. At home and outside, in our religiosity or amusements this trash dominates, whose function is to seal the windows.
But it was not supposed to be so, as you cannot get the Complete except through these gaps through which pass light and air. But light, air and sky are not creations of man so he is averse to accommodating those within society. So, whatever leisure is left after providing the utilities, he fills up with trash. Thus, man is solidifying his days and would similarly treat his nights too so far as he can. It is like the laws of the Calcutta Municipality under which all the ponds must be filled up with rubbish. Even attempts are there to choke the Ganges with jetties, bridges and ships. I remember my childhood Calcutta. The ponds were the companions of the sky. In those spots the heaven could step on the Earth to be hosted by those ponds on their seats of water.
The advantage of a utility is that it has a limit and cannot go astray. It permits 10 to 4 duty hour with festival holidays and Sundays; does not laugh out the night with electric light. Whatever it gives while our longevity runs down, has to be paid for in lucre, extravagance of which cannot be afforded.
But superfluity is devoid of a sense of balance. It dispels timeliness. It knocks at your door any time, during your leave hours and even to wake you up at night . Because it has no business, it is more busy than a workaholic (it seems the Poet here refers to the untimely fits of inspirations even at the dead of night which he used to pen down instantly before they will elude, but for which his superb creations would not be so enormous and varied).
Utilities can be quantified, the superfluities cannot. So this devil must occupy his immeasurable seat. It is difficult to push him out from there and we pine for a vagrancy.
Anyway, as soon as I have been out, I realized that there is no credit in frantically denying that with this vast world our relation is of Anandam (heavenly joy). Here there is no scramble neither chock-a-bloc, yet everything is full to the brim, that mirrors my image. The words 'I am here' get fragmented and deformed amidst our lanes and buildings. When I spread these words in the sky above, I realize its true implication. Then I transcend the utilities and the superfluities to find their reception in the domain of Anandam and clearly perceive why men were addressed as 'The sons of the Immortal'.
Originally published in the Bulletin (May 2010) of the Ramakrishna Mission Institute of Culture.
Translation by the author.
References and Source
The January-June 2003 issue of "Shrayan" a compilation from Tagore's letters and diaries. by the editor of the magazine Mr. Pathik Basu.