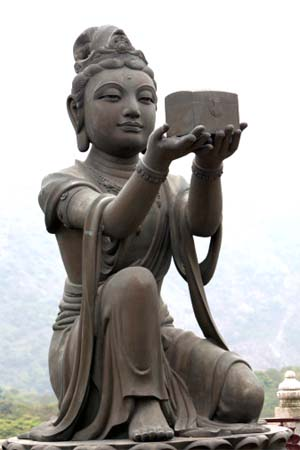 Just as driving on the right side of the road gives us the freedom to go anywhere, so accepting the natural law of constant change is our route to freedom.

Whatever path of action you find that brings good and happiness to all, follow this way like the moon in the path of the stars.

Karma can change life the swish of a horse's tail.

Inner freedom is not guided by our efforts; it comes from seeing what is true.

When you walk, just walk; when you eat, just eat.

Don't keep searching for the truth, just let go of your opinions.

To meditate is to listen with a receptive heart. Everything that has a beginning has an ending. Make your peace with that and all will be well.
Stay centered, do not overstretch. Extend from your center, return to your center. Take time every day to sit quietly and listen.

If you know about the power of a generous heart, you will not let a single meal pass without giving to others.

Like the mother of the world, touch each being as your beloved child.

Harm no other beings. They are just your brothers and sisters. Learn to let go. That is the key to happiness. Joy and openness come from our own contented heart.

To awaken, sit calmly, letting each breath clear your mind and open your heart. Just as a snake sheds its skin, we must shed our past over and over again. In life we cannot avoid change, we cannot avoid loss.

Freedom and happiness are found in the flexibility and ease with which we move through change. Each morning we are born again. What we do today is what matters most. As you walk and eat and travel, be where you are. Otherwise you will miss most of your life.

Treat others with justice and respect. In the long run, how you treat others will be how they treat you. Imagine that every person in the world is enlightened but you. They are all your teachers, each doing just the right things to help you learn perfect patience, perfect wisdom, perfect compassion.