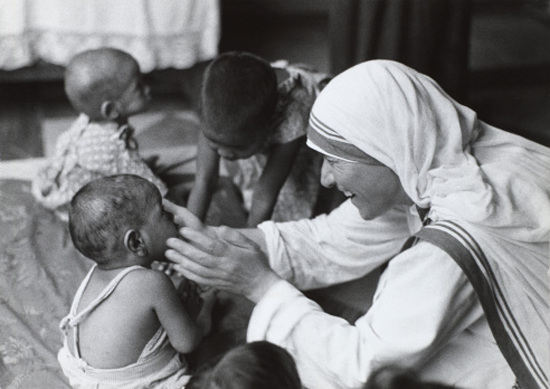 The biggest disease today is not leprosy or tuberculosis, but rather the feeling of being unwanted, uncared for, and deserted by everybody.

The greatest evil is the lack of love and charity, the terrible indifference toward one's neighbor.

Do not allow yourself to be disheartened by any failure as long as you have done your best.
Only humility will lead us to unity, and unity to peace.
I do not agree with the big way of doing things. To us what matters is an individual. To get to love the person we must come in close contact with him.

If we wait till we get the numbers, then we will be lost in the numbers. And we will never be able to show that love and respect for the person.

Be kind to each other...I prefer you make mistakes in kindness, than that you work miracles in unkindness.

In these times of development, everybody is in a hurry and everybody's in a rush, and on the way there are people falling down, who are not able to compete. These are the ones we want to love and serve and take care of.

Let us not make a mistake...that the hunger is only for a piece of bread. The hunger of today is so much greater: for love...to be wanted, to be loved, to be cared for, to be somebody.

Let us be very sincere in our dealings with each other and have the courage to accept each other as we are. If we really want to love others, we must first begin to love one another in our own home. Love begins at home, and so from here...from our own home...love will spread to my neighbor, in the street I live, in the town I live, in the whole world. Everybody should see kindness in your face, in your eyes, in your smile, in your warm greeting.

Image (c) Gettyimages.com

Comments on this Blog
---
| | | |
| --- | --- | --- |
| | Did Mother Teresa miss specifying something? - that before action is possible, there must be love in one's wilful thoughts. This is the sublime aspect of Christ's teaching, who indicated that wilful crime is primarily in thoughts (not as was previously thought, in actions), of lust, envy and murder, of vanity and pride, even in our own judgment of others: it is at this stage of thought that we can recognise and curtail sin, even as a sinful thought itself is an action, and in our minds transform them into thoughts of love and forgiveness, by the grace of Jesus Christ, from which spring the physical actions manifesting them. If Mother Teresa is seen as the exemplar of charitable acts, it is because her thoughts of identification of everyone with Christ, as meriting the love of Christ - with no exceptions - come first and lead the way to love in action. The accomplishment of charitable thinking is the prime manifestation of the saint, achieved by the action of divine (Christ's) grace, which is manifested further in physical acts of love and sacrifice for others, as, all saints will agree, the manifestation through them of Christ's love. But let us condense it to an aphorism: At all times think love, and actions will follow. | |
---