A Modern Bengali Poet

Professionally an Auditor, I have no authority to pretend as a literary connoisseur. However, penchant for poetry is everybody's right which I have along with my passion to transmit the best of Bengali literature across its linguistic boundary, of course by my translations, good or bad. This passion was kicked up by a few of my North Indian friends in their urge to know Tagore a bit more than they did already before they discovered me while I was on my professional tour in Delhi. However, under their pressure, I started translating Tagore for their consumption in 1998 which they published in a few North Indian magazines until publication of my book of Tagore translation The Eclipsed Sun.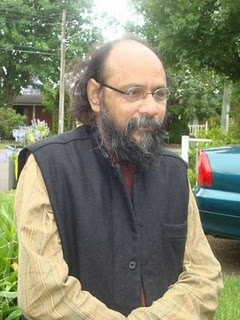 During this time I took excursion into translation of a few modern Bengali poets also of whom Joy Goswami was one whose two poems only I had translated.

Benimadhab
Cloud Girl

With this very limited exposure to Joy, I shall not try to lecture on the merits etc. of his literature except that I liked intensely his said two poems. But, I shall highlight the interesting information I had read in The Statesman (Calcutta) in late 2007 that two Americans have brought out their book of translation of Joy Goswami's poems published from Calcutta.

A picture of Joy with a copy of the book in his hand went with the news and Joy appeared to be rather satisfied with this publication. But the news also informed that the two American translators were unhappy about some changes made in their script by the publishers without their prior permission. The news did not give the name of the publishers though of course the names of the two American translators were given. However, due to my carelessness, as is my wont, I forgot to note down their names and so regret my inability to mention the names here. But what is amazing in this news of commonplace strife in the publication world is, Joy has infiltrated even the American minds who are temperamentally and culturally poles apart from the Bengalees. So, this news on Joy should be joyous to the Bengalees!