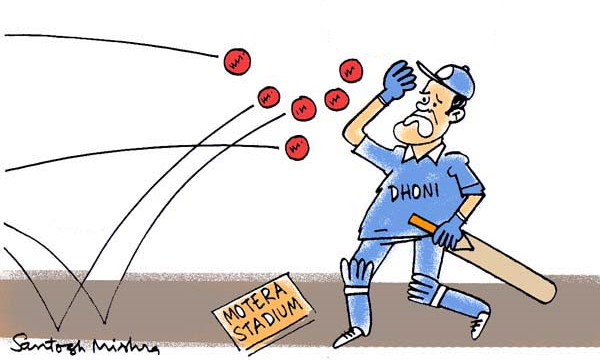 Ego battles, constant game 365 days a year, exaggerated ambitions, camps within the team, film and advertising and instant huge bucks are some of the reasons why we see Indian cricket in such a state today. In a country as huge as ours and with the kind of passion this game evokes in Indians, we have every right to stay at the top. We should have more than one national team beating top international sides simultaneously. I mean, what the mess are we in. The way we have beaten Pakistan yesterday, I have real fear that Bhuvanesh Kumar and Shammi will also go Sreesanth or Ishant Sharma way. They will take these promising cricketers to five-day Tests, tire them and finally rest them with multiple injuries.

Everybody in the team has injuries. Zaheer, Sachin, Dhoni- I mean you name one, just one healthy-bodied cricketer. Why is it so? It's simply because of exhaustion, over exposure to competitive, hard, international game all the time. There's no cricketing season now. We're killing the golden goose to hatch all eggs at once.

BCCI is too powerful; that's also a problem. The big bosses are not ready for any out of the box thinking. Why can't we have two separate teams for Test matches and ODIs? All Rahanes and Pujaras can go to test matches and all Yuvies and Dhonies can come to one day and T-twenty matches. We as Indians want our team to win, just that. We love our cricketers and then we hate them as well. BCCI should understand the kind of expectations people have from Indian cricket team. It's time the team delivered.

The key reason as to why Sachin could play for so long is his brilliant spacing and timing of his rests and play. We need more all-rounders in the team and we need better all-rounders. There's urgent need to groom Ashvin, Raina and even Kohli into better all-rounders. They must be able to switch roles as per the need of the hour. We need new faces. We're tired of the non-performing superstars. Our cricketers are better in acting than playing. The bowling attack has to be fiercer. We need powerful, young bowlers who have the hunger to perform.
The team has grown too cozy, too complacent. We don't want billionaires. We want wicket-hungry, run-hungry youngsters. We need agility in fielding. Be sure, major surgery is required in the team if we want to prepare for the next world cup in all earnest. If a player does not perform well in three consecutive matches, he should be dropped, no matter how big he is. We can also think of Indian coaches. Physiotherapists can be called from abroad. Players can be sent abroad for specialized treatment and physiotherapy sessions but the coaches ought to be Indian. Our senior retired players understand the ground situations better.

With such a proactive approach, BCCI must rejuvenate Indian cricket.