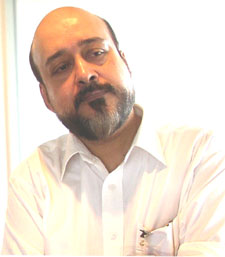 Shreekumar Varma has been journalist, editor, publisher, printer, radio broadcaster, entrepreneur and college lecturer. His poems, articles, reviews, short stories and interviews have appeared in several publications and Internet sites including Adam & Eve, Home Life, Heritage, The London Delhi Poetry Quarterly, The Hindu, Indian Express, Deccan Herald, Fiji Times, Akshara Journal, Aesthetica Quarterly, Kavitanjali.com, Katha.com, Trident, Pulse-Berlin Magazine and Cinema Today. He is a columnist for The New Indian Express, The Economic Times Madras Plus, Ritz Magazine and the Deccan Herald. He is a visiting lecturer in Creative English at the Chennai Mathematical Institute.

He has taught at the Madras Christian College, taking English Literature classes for undergraduate and MA students. He has also taught Journalism to continuing education students of the college. He has addressed students of the Indian Institute of Technology [IIT], the JBAS College, the DG Vaishnav College and the Meenakshi College, Chennai.He is a charter member and past president of the Rotary Club of Madras Southwest.
His award-winning plays, THE DARK LORD and BOW OF RAMA, were staged by the British Council, and jointly by The Hindu and The Madras Players. His play PLATFORM was staged by The Madras Players in January 2005 to launch their 50th year celebrations.His children's book, THE ROYAL REBEL, was published in 1997 by Macmillan.

His debut novel, LAMENT OF MOHINI, was published by Penguin in June 2000. It has been on several lists of the Indian Top Ten. His stories, articles and poems have appeared in anthologies, including the Poetry Society of India's collections, Penguin's 'Where The Rain Is Born', Puffin's Book of Poetry for Children and Puffin's Book of Funny Stories.Two unique Bharathanatyam dance recitals, Vamshi and Monsoon, by renowned artiste Indira Kadambi were performed incorporating his poetry. He has completed two new plays DEEP INSIDE and NATHU'S DREAM (a musical with song, dance and lots of magic) and a second novel, MARIA'S ROOM, set in Goa. He is currently at work on a "personal biography" of the city of Madras (Chennai), a third novel about unknown relationships, an "academic" novel. His children's novel Tales Of Pappudom will be published by Puffin in July 2006.

He was awarded the Charles Wallace [India] Trust fellowship and was Writer-in-Residence at Stirling University, UK, for the year 2004.

He is married to Geeta, and has two sons, Vinayak and Karthik.
He is the grandson of Sethu Lakshmi Bai, the last ruling Maharani of Travancore State, and great grandson of the artist
Raja Ravi Varma. He lives in Chennai, South India.