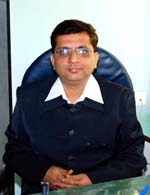 Dr. Gaurang Joshi is a consultanting Ayurvedic Immunologist, a Panchkarma Physician and a Skin Specialist. He is a Gold Medalist Bachelor of Ayurvedic Medicine & Surgery from Jamnagar Ayurveda University-April 1994 at Shri O.H.Nazar Ayurvedic Collage, Surat.
Experience :
Worked with super specialist Physicians, Surgeons, Gynecologist and Radiation Oncologist in various hospitals in South Gujarat. Successfully treating the most complicated skin disease- Leucoderma (Vitiligo) and Psoriasis.
Professional :
Running an Exclusive Ayurveda PanchaKarma Treatment center. Providing Ayurveda Consultations to diagnose & treat the patients of Obesity, Skin Disorder, Leucoderma, Mental Disorder, Diabetes, Arthritis, Hair Diseases, Hyperacidity, Spondyslysis, Backache, Bronchial Asthma & all types of chronic diseases by enhancing immunity. Providing immunological treatment for all infectious diseases including prophylactic, palliative and supportive treatment in all types of cancer.
Research :
Conducted a collaborative research project at Lions cancer detection center, Surat entitled "Ayurvedic Medicinal Oils" as a complimentary treatment for colorectal cancer caused by chemo & radio therapy under direct super vision of Dr.S.P.Shrivastav (M.D.) Chief Radiation Oncologist & Medical Director) from 2004 to 2006.
Working on a collaborating research project to reduced the side effect of Radio Therapy & Chemotherapy in all types of cancer with Dr. Manisha David (M.D. Radiation Oncologist) at Gohil Cancer hospital, Navsari since 2005.
Also doing the research work on the effect of Panchakarma treatment on Molecule levels with Dr.Narayan Patel (Ph.D.) Director of I.H.P., USA and Dr.Madhukant Pandya (M.D. Ayurveda) Ayurveda Center, U.S.A.
Current Area Of Research:
Role of stress and injury in flare up of psoriasis.
Role of cold drinks on psoriatic patients under stressful conditions.
Role of sun light on psoriatic patients after applying different herbal applications.
Correlation between condition of tongue and type/severity of Psoriasis to develop the method for early detection :
Role Of Vitiligo oil and Vitiligo cream in Leucoderma (Vitiligo)
Role Of Panchakarma Treatment in the Management Of Psoriasis and Skin Diseases.
Role of Panchakarma on Molecular level
Area of specialization :
Immunology, Panchakarma, Oncology, Skin Diseases
Hobbies:
Travelling, Reading, Netsurfing, Making friends, Music, Movies.