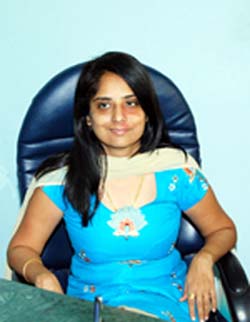 Dr. Bhavana Joshi is a Gold Medalist MD (Ayurveda in Oncology) from Jamnagar Ayurvedic University - Dec.1998 - from Shalya Dept.(Ancient Surgery). She is a Consultant Cancer Physician.
Experience :
Developed innovative ways using state of the art technology to reanalyze exciting data sets containing information on AgniKrama (Hyperthermia) i.e. Cauterization in Head and Neck cancer and "Matra Basti"in Pelvic Tumors of male and female. The efficacy of mind-body techniques through Yoga and Medications on advanced cancer. Post operative rehabilitation in Breast cancer through Yogasanas.
Professional :
Running private cancer care hospital at Rajkot with collaborative research projects at Surat Govt. Cancer Hospital. Provide Prophylactic, Palliative and Supportive treatment in all types of cancer.
A collaborative research project of the thesis work was done at Rajkot cancer hospital and research center, which give me best experience regarding cancer in all aspects viz. Surgery, Radiotherapy, Chemotherapy, Brach therapy and combined modality of the treatment, palliative and preventive oncology.
Research :
Completed M.D. Research work at Nathalal Parekh Cancer Hospital & Research Center, Rajkot in 1997-1998, which was the collaborative center for the Jamnagar Ayurvedic University. Research work done for one and half year under guidance of Dr.V.K. Gupta - Medical Director and Chief Radiation Oncologist. The research project was on the "Role of Raudra Rasa in management of Arbuda" with special reference to cancer of head and neck.
Presently collaboration with Lion's Cancer Hospital and Research Center, Surat under guidance of Dr.S.P. Shrivastav (Medical Director & Chief Radiation Oncologist) for comparative study to combat the side effect of radiotherapy and to increase the effect of radiotherapy in advance head & neck cancer and cervical cancer with radiation and plant product.
Special Achievement :
One of the screening test member of the Panel of advisory committee all India panel for deputation Ayurveda expert abroad by Govt. Of India, Ministry of health, Delhi in 2001.
Associate of Dr. Narayan Patel, Ph.D., USA.
Conducted many Radio Talks, TV Talks including special program on Sanskar Channel, E-TV.